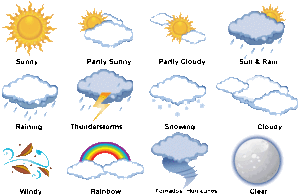 Oh, Oh how we all love to have a good moan about the weather, especially when it does something we least expect. The thing is though, the weather will do exactly what it wants, whether you like it or not, because it is all related to so many factors, the most important of which is, nature. And if there is one thing no one can completely control that is nature and a good thing too.
But don't we all love to complain about the weather? We want the seasons to begin when we think they should, in other words, no sudden surprises after perhaps a lovely sunny day that the wind changes direction and the next day you get an unexpected dump of snow. That is what happened yesterday in some parts of Holland. The temperatures go up and down depending on how the 'climate' is actually moving around the globe depending on the time of year. Which direction the winds are blowing and how much cloud formation there is.
I am definitely no weather expert for sure, but I know that the winds and the oceans around the world are the key factors in the weather. And not to mention the differences between the northern and southern hemispheres. The movement of other planets and stars around our planet, they all play a role. The moon after all controls the ebb and flow of every tide of all our oceans.
True, there have been some days this year when you can really feel the warmth of the sun coming back after a virtually mild winter here. Then out go the chairs, off go layers of clothing and you sit in a sheltered spot in the sun. It does your physical body good, literally, absorbing Vitamin D from the sun's rays on your skin. But always remember how strong the sun is; always protect your skin, each and every time. It only takes a few moments to apply sunscreen even if you think you don't need it. You do.
I was thinking this morning how many conversations in general start about the weather and usually in a negative way. We are frustrated when it rains, when we want to be out and about, irritated if our plans have to be changed because the weather has let us down. Remember all those barbeques you planned in the summer, which were washed out? Fed up if we are stuck in busy traffic because of snow or icy roads and when the weather is good (always from Monday to Friday when the majority of us work) and then the weekend is totally crap weather wise. I mean how frustrating is that!
However, starting a conversation with someone when the first vibes are negative really sets the tone for the rest of the conversation. Even though we have reached amazing heights in our evolution, there is one thing completely out of our control – the weather. But why spoil every encounter with another person, in other words an exchange of energy, but pulling it down immediately into the negative. Why not say things like: 'did you have a nice weekend and what did you do'? Or 'you are looking really smart today and like your new hairstyle'. Endless possibilities, but in some or other way, the weather is a big deal to all of us and that is what we often talk about at length.
Each and every season has its charm for sure. With only four per year that is not a lot really. Everyone has their favourite moment and relates to winter, spring, summer or autumn. To me each of them has their charm, but I like spring the most, when everything comes back to life after a long 'winter sleep'. That the leaves burst open on the trees, everything looks fresh and green again, flowers begin to bloom in the garden and the silent wintery world is suddenly full of sounds. Birds chattering in trees, people are busy outside in the garden, people are walking in the parks and having picnics, children are playing outside and so on.
Doors and windows are open wide, letting in the fresh air, having been shut tight most of the winter with the cold and biting winds. Bare legs and arms, open shoes or slippers, yes this really is more my cup of tea.
I love the summer too, those sunny days with gentle breezes. The return of the swallows. Eating al fresco, long evenings and starry nights.
As I said we all have our favourite seasons. But why do we continually allow the weather and either its high's or low's to affect us so much. Of course it is the on-going strife for perfection. We can control so much these days and we expect a lot. We are moving fast in today's world, innovation and technology changing almost daily but even so, nature is just going to take its own course.
The weather will do what it wants, when it wants, whether you like it or not!
So maybe it's time to change your frame of mind and just enjoy each day as it comes.
See the positive in everything instead of always choosing the negative approach.
There are actually people who love to be out in the rain, splashing around in muddy puddles. Children are fascinated by the snow and building a snowman. Winds blow around the globe spreading the pollen to fertilize the plants, flowers and vegetables.
The sun warms our planet and gives it light. Nature is just fascinating.
Next time you want to have a 'moan' about the weather, remember all those days when it was just perfect. About the beautiful sunrises and sunsets you have seen, all the days you had when the weather was good. Talk about that instead with one another.
Be positive!