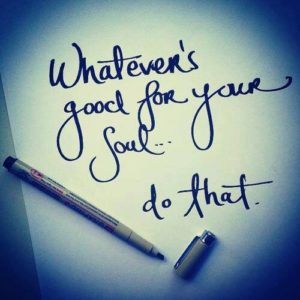 Something a little bit different in this blog. I want to talk about our physical body and our soul.
There are a lot of people in the world who believe that you have one life. Many then think that you have to cram literally everything into this one life experience. Not so really. People who are spiritual or perhaps think differently, will gladly recognize this fact that every single physical living body has a soul too. Sceptics will definitely disagree. A lot will say you get one life so you have to make the most of it. This is not right.
So what is your soul? To me this is the real you, the little voice inside that talks to you, guides you and advises you. The true essence of who you are. Your soul is endless and goes on forever. Time is not important. Each and every life is feeding your soul with experiences to enable it to grow.
Soul-beings longed for the opportunity to actually be in a physical body. That is the one thing they did not have. Even though souls in groups lead an almost magical existence there was still the longing within to be a person. To have a real body, to be able to feel emotions, to see, to speak, to hear, to touch, to feel, to get angry, to be happy or to be sad. Everything in fact that we associate with ourselves. The person who we are actually reading this blog right now.
But what if there is more? What if each life becomes an endless experience and learning curve. Enabling you as a soul to grow and experience the things you craved to do?
A lot of people, particularly scientists and medics will say that when death occurs, life ends. Physically speaking this is right. What they have difficulty in recognizing, purely because their work is based on proven facts is that when the physical body dies the soul leaves the body. This has now in the meantime been proved by some scientists in Russia (I believe) who have captured the images using Kirlian photography. We all know that a physical body ceases to actually function when the heart stops beating. This is the true fact we can attach to death.
I like many people believe and I say this because I have had a Near Death Experience, that the soul lives on. That there actually is a place on the other side! Even if you are thinking as you read along: 'yes sure, what is she trying to say' but please bear with me.
Just imagine if what a lot of people already believe in, is actually right? You need to look at the release of the physical body purely as a moment of death when the soul leaves the body to return 'home'. The job is done, the lesson learnt.
One of the best illustrations of this on film (and I know it was a fictional children's' film – but often fictional films have more truth than we actually know at the time) was the moment in one of the Harry Potter films when the soul of Sirius Black leaves his body when he encounters the Dementors with Harry. His life force or soul is literally sucked out of his body. With Harry's help (the famous patronus) he is able to stop the procedure. Yes I know this is just a film! But the visuals are good and help people perhaps to understand.
So what actually happens after death: I can only write about the things I believe in or have seen or been told by others. I am not trying to make a big statement here that this is actually what happens; this is merely a little synopsis of my own opinion.
After death the soul is in a sort of place of waiting. Between worlds if you like. To come to the realization that the physical life they knew has ended. Souls witness their own funeral, the final journey in that particular life. After that the soul goes to a place where they see a summary of the life that has just passed. What lessons and experiences have they had? This goes right from the death moment to the birth moment. Then all memory is erased. At least that is the way it is supposed to happen.
Then they wait for the next incarnation moment, taking into account where they want to go and what they are accepting as the lesson in a new life. A soul actually beomes a literal new physical being when the moment of fertilization occurs and the cells divide with great rapidity. A new human is being formed.
Sometimes all memory is not erased and then people will often have really clear memories about previous lives. So much so that they totally recognize other soul beings when they meet them again on their path. They will have a definite recognition if they re-visit places they have been to before. They will meet people who belong to their soul groups and you may have recognised this yourself, when you met someone and there was an instant 'click' just as if you had known them for years. People who you would describe as life long friends, you may not see one another each and every day, but the connection when re-made is just as if you were together the day before.
People often come back to places they know, there is a secondary moment of having the feeling that you have been there before. Perhaps you have experienced this yourself. The feeling is only momentarily, but just as clear all the same.
So maybe this is something to think about when you are rushing around in your life, trying to cram every single experience into it. Take your time, slow down, time is an illusion, so enjoy it.
You may or may not resonate with these words, but just think what if this is the case? What if this is right? Why am I here and what am I here to do? Slow down, let the answers come to you themselves.
Try communicating with your soul; you can do it easily through something as simple as a meditation. Ask the questions you want to ask, you may not receive the answers straightaway; it is only important that they are heard. Answers come at the least unexpected moments. Remember that. Also remember that each and every experience, good or bad, happy or sad, wonderful or disappointing are all part of the great curve of gaining knowledge.
Slow down, you don't have to do it all in one go!!