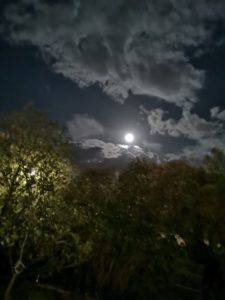 Just a very brief note to let all my readers know that I am going to be offline for a couple of days. Going to hospital Monday morning (reporting at 07.00 am!!!) so a very early start to have a hip replacement operation. Counting down now, 2 days to go.
Feeling nervous? A little, this is my third operation this year and hopefully the last!
it just happens to be Full Moon on Monday 24th September. Harvest Moon. I like it when things like this happen and coincide with important moments in my life. The date is nice too, I was scheduled for 10th October, but they brought it forward to 24th September. So September is the 9th month, one of the numbers that comes up frequently for me and the 2 plus 4 make 6. 6 is an energy number. I have already explained that 2018 is an 11 year, which is a master number. So the total of everything comes to: 26 which goes down to an 8, the never ending shape of the infinite.
And I am on the list to start at 08.00 am.
Love it when everything comes together. Back soon. Hopefully next week one of my books will come online (Fireflies in the Summer and other short stories). This will be via the UHMI link. You can read the first chapter for free and then to read on, purchase the book through UHMI. You need to make your account and log in, with a personal password, but payment is very easy. The idea behind this, as my books are already for sale through www.bol.com was to offer them around the world avoiding postal and packing charges.
Back soon and thank you all very much indeed for the huge amount or reactions to the latest blogs, most appreciated.
Jill
Image: Private Collection (Robin Kramer). Taken in my garden on 21st September 2018. Nearly a full moon and the autumn equinox