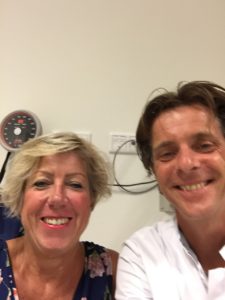 Now it's my turn to take over the healing. Everything still feels a bit stiff and sore and I feel a bit shaky, but now at home and settle myself into a routine of taking things easy for the next three weeks or so. Giving my body time to heal, allowing the veins and arteries and also my heart to get used to this new feeling. A perfect sinus rhythm just like everyone else has. Normally people never think about this, but believe me if you have had years of your heart being out of rhythm, then it feels totally different. I am not forcing anything, not rushing, just take the time and space to heal. The puncture wound has healed very well indeed, although it still feels sensitive (logical) and I pay attention to keeping it extra clean.
There is a heat wave in The Netherlands, so this means that I am literally spending my days in the garden in the shade (too hot in the sun) and either reading, writing or listening to music. I have made my own playlist, all my favorite songs and often I sit with a cup of tea listening to them. It makes me relax, music is so important in my life.
I spend quite a time making glass mosaics, a new hobby and do one of the largest I have ever done. This is a present for Lukas to say: 'Thank you for healing my heart'. I will give it to him when I see him on the 14thAugust.
That is what I really like to do, be creative. It is relaxing. Not worrying about shopping, what meals to make, whether I have to do this or that, this time is now for me, and me alone.
I am literally giving my physical body the chance to heal, to flush out all the 'waste' in my cells from the sedation. I am still taking my complete package of medication and will continue to do so until the next appointment.
The weather gets hotter and hotter and we have temperatures, which we have never experienced in The Netherlands. Everything is dying in the heat, the lawn looks like the African Savannah, just brown dust, and cracks in the soil. A lot of the trees are starting to lose their leaves; it's like autumn without any colour. Parched and very dry.
A month later after the ablation my groin is still painful and I find it increasingly difficult to walk. My dog only wants a short walk, the pavements and road are too hot for his paws, but even a short distance is too much. I have emailed with Lukas about it and he replies that he is sure it is nothing to do with blood vessels, maybe a muscular problem or joints? Eventually I make an appointment with my own local GP and get sent straight off to the local hospital for an X-ray of my pelvic area. Bad news, my hip needs replacing. Another operation this year and the third one. Unfair!
In the discussion with my GP we talk about the pros and con's of where I should go. Should I choose for a clinic and then it could all be done in a couple of weeks or wait and go back to Catharina Hospital. It may sound strange but this hospital is my sort of safe haven. Because my entire medical records are on the computer, my own cardiologist is there and I know only too well, if I try and go to a clinic in my local area, once they hear my medical history, they will just say that I have to go to a regular hospital. So I choose for the one where they already know me.
All through the month of July it is sweltering hot, everybody is going on and on about the weather, everyone is waiting for rain.
At the beginning of August, a fantastic week away with one of my best friends. She has been through a tricky divorce and we both decided a break would do us good. A whole week, each and every day was a surprise what we were going to do and ending the week with two days in a Wellness Centre. I felt so much better after that.
Also I have a new book on the go. Suddenly got inspiration from a story someone told me about a retreat they had been on and the idea got going in my head. I have the basic story line, but then I need 8 characters to be in it. Surprisingly as it always goes, the characters just turn up by chance meetings, or stories heard from others and I am typing in the garden nearly every day in the meantime. I have a chair in the shade and a table, the dog lying by my feet and it just flows.
14th August 2018
So now, it's the morning of the 14thAugust. A date that seemed so far away in May, but the time has literally flown by. Traffic is busy (as always) and about to leave to be on time.
I had to divert from my usual route because of a bad accident near Tilburg and it seems a much longer way around. But get there with plenty of time to spare so have renewed my hospital pass (it had expired in May) and then an ECG and a chat to Lukas' assistant. I settle down and engross myself in a magazine with a half hour wait until my appointment.
So let's see how my heart is doing after all that work, on such a special day and what Lukas has to say:
 "I am happy to see that you are doing well and that your heart is consistently in sinus rhythm. We can now conclude that the chances of recurrence of atrial fibrillation are very, very low. You did very well by taking it easy in the first week, as it prevents a.o. bleeding complications in the groin. I truly appreciate your kind words and will transfer them to the rest of the team that took care of you."
After we have finished talking about my heart, the ECG is perfect, blood pressure fine and then Lukas shows me the film on the computer of the actual ablation. This is quite special, I am looking at a film of the inside of my own heart and one of the things that made me feel quite emotional, was that I could see the 'Carpentier Ring' around my mitral valve, the work done in 1974 in England (as I have mentioned in earlier blogs) and still working perfectly. It made us both think and we said that, the wonders of heart surgery all those years ago. Because there have been huge strides made over the years.
A quick chat about the changes to my medication. On the one hand, I think, 'never change a winning collection', but my heart does not really need some of the tablets anymore because it is in perfect rhythm. So some of the amounts have been halved and with a new prescription printed out, I decide it's time to give Lukas the present I have made from him.
.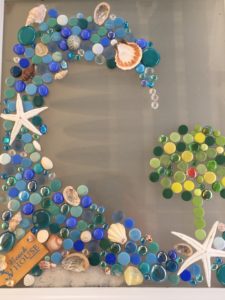 I can see by his reaction that he is really pleased and once he had unpacked it, with a bit of help from me, he said he loves it! Good. I wonder if he will actually take it home, or put it up somewhere in the hospital itself. No doubt he will say.
(The picture is in the hospital in his office, its rightful new home I feel).
We had decided beforehand because of the huge amount of reactions to our blogs that we will make a photo together (see above). After several attempts at trying to look into the lens on my Iphone, eventually the last three photos are excellent, and to my mind show a happy, smiling doctor because he knows he did a really amazing job using his talent and expertise, his team and the whole operation had worked and been a great success. And an eternally grateful and happy patient because he literally healed my heart. There are really not enough words for me (despite the fact that writing is my thing) to say how happy I am, incredibly grateful and thrilled to have a heart working normally again after such a long time. Back in rhythm with everything.
Next check up in 6 months time. Excellent date once more 14thFebruary (Valentine's Day) so all about hearts!!
Normally at the end of the appointment, we would shake hands and say, 'see you soon', but this time, we gave one another a hug. Seemed the right thing to do. Probably not many patients actually do this normally, but for me it felt right. Just a few seconds of closeness, so that he had no doubt whatsoever how grateful I am and always will be. A hug represents a thousand thank-you's.
Jill Kramer                                                             Dr.  Lukas Dekker
© August 2018                                                      © Catharina Hospital
Eindhoven, The Netherlands
Photos © Private collection: Jill Kramer & Lukas Dekker