Well, its official my daughter has now started her maternity leave. All her work is done, files cleared, email box emptied and now rest … awaiting the arrival of her daughter, our granddaughter.
36 weeks (officially 4 to go) although we have all sort of convinced ourselves that she is going to arrive early. Latest visit to the midwife, confirms, she has turned around, head engaged, so getting into the position to be born.
My daughter still seems incredibly calm and has, just like she has had all her life, definite ideas about how she is going to go through the birth process. No epidural, no painkillers, pure nature, no gynaecologist. Great plans and as I have told her now several times (well actually she is probably bored by me saying), the whole essence lies in the breathing.
I used to be a huge yoga fan (still am) and when I lived at home went with my own mother every week. Coming to live here, I continued on for years every Monday evening after work. Yoga breathing that is what is all about, clearing mind, body and spirit. Breathing is after all the essence of life itself. If you can do this successfully you never need any painkillers for a headache, just a simple breathing exercise clears any symptoms within minutes. So why this breathing for the birth?
Of course all women reading this blog will know that contractions are painful and that they come in waves. A lot of people tense up so much, they actually forget to keep breathing and then the contraction itself really does not have any effect. By controlling your breathing and allowing the body to adapt step by step for the birth, means that you soon reach full dilation and then it's all about pushing and puffing. Once the head and shoulders are born, all the hard work is really done.
Not that I say I was an expert. Not at all. I had an epidural when my daughter was born, so a pain-free experience and my son was born by c-section.
But I remember my own mother giving me the same advice, 'it's all about the breathing' she said. I agree.
My own emotion is in between excitement, worry to some extent that all will go well and also the idea; what will it be like to be a grandparent? How will I actually feel when I hold her for the first time? Will all the memories flood back from 30 years ago?
I remember when my mother arrived at the hospital, that I felt a huge sigh of relief. It was all very new and I felt unsure, but the moment my own mother arrived with all her experience, everything was under control. Even though she would only be there for a couple of weeks and have to return to the UK.
She was just a pro, could pick up the baby much better than I could as a first time parent. She would say, the baby is much stronger and tougher than you think, true, but all the same, first time around it is all such a learning curve! Agree?
My daughter said to me the other day that she is not going to ring us in the middle of the night, because we will not be able to sleep but surely she must realize that I will instinctively know. I have already had several dreams where I have seen the baby's face already, and no she has not had one of those special 3D echoes done either. It's a sort of trip down memory lane if you like, my own memories keep flooding back.
It was a really hot month in May when she was born all those years ago and I had one sundress, which still fitted my whale shape body and I spent the majority of the days sitting relaxing in the sun. I was as brown as a berry apart from one huge white lump in the middle. I had three friends who were pregnant at the same time, and when the first baby was born, it brought it all so much more into perspective. I was actually the last of the three of us.
I wonder why people often love to tell the tale of their 'traumatic experience'? It can be so off-putting when you are still awaiting your own birth experience. When you think women in Africa and such countries are often working in the fields, give birth, bundle the baby in a special cloth on the back and carry on! Perhaps we are all too pampered here in the western world?
Anyway one thing is for sure, the birth will happen. No baby has ever ended up staying the womb forever. It is all a natural process going back to the beginning of time. And of course every single woman in the world experiences it in a different way.
It is getting exciting, not only for the 'parents to be' but for the grandparents too. How will her little dog Duvel, the Jack Russell react to all the attention the baby will get? He is already wondering why the room is all changed around; well there is this sort of cage (playpen) already assembled. Duvel is an unusual dog for sure, but it almost as if he has a seventh sense about what is going on.
Although we are not planning to turn the new baby in a social media hype and post up loads of photos, I will add one to the next blog when I introduce her to you, but in the meantime, we all literally all counting down… and breathing …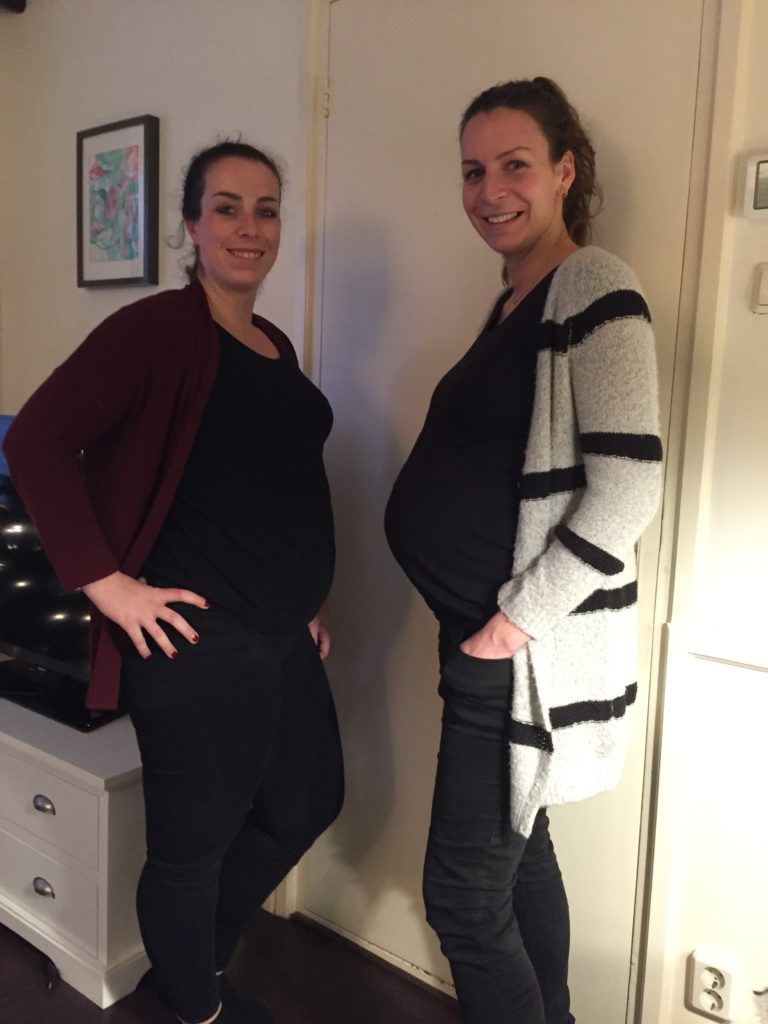 Image: Private Collection Jill Kramer (copyright) my daughter (left) with best friend Sophie, both on the same due date 23rd February!!