I do not by any means, claim to know a lot about astrology, but I know that it has been something that has fascinated me since I was a child. The planets, the stars, the signs of the zodiac.
This week I received an interesting email from someone who was talking about an astrological occurrence, which I want to share with you.
Its already February and this month CHIRON is moving into the star sign Aries where it will remain for the next 8 years! In other words this means in all the revolutions around the sun, Chiron will remain in the star constellation Aries for all this time. It is quite unusual.
Now way back in 1977 Charles Kowar discovered at Mount Palomar Observatory that there was an 'object' moving between the planets Saturn and Uranus in an eliptical circle around the sun. On all the photos Chiron only looked like a small dot and people thought there might be a new small planet and gave it the name 2060. The name was Chiron is derived from the Greek mythology as something that was half man/half beast. What they really noticed was that Chiron continued to remain in the movement around the sun between the two planets mentioned above. Some people wondered if this was a comet because of its pointed form. Chiron is often referred to as the 'wounded healer'.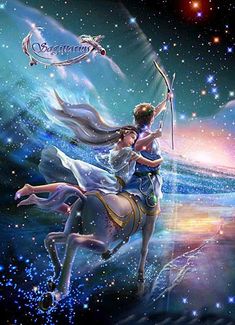 Now what is so interesting about Chiron going into the star sign Aries and remaining there for the next 8 years?
Well for starters, this is an unusually long transit. Longer than any transit by say Uranus, who spent 2 years in Libra. There is apparently a lot of work to do. And that is why it is going to be on-going for 8 years as well. In Aries Chiron aims to heal the deepest wounds of them all : our identity!
So what will this mean for you personally. As Chiron has left a part of the zodiac and moves perhaps into an area which had not been explored until now, Chiron will show you which area of yourself you need to heal so that you can become whole again. And it is going to be an opportunity for the next 8 years.
Now 8 is an interesting number in itself because it represents the never ending lemniscate. A symbol, which goes back to ancient times. You often find it in ancient monuments, churches, art etc. It is also called the Vesica Piscis. It is a 'fish' shaped form used in depicting an aureole around religious figures, such as Jesus Christ. Another name is a mandorla, which comes from Italian and literally means 'almond shaped'.
So what is this healing all about? Why should we pay attention to Chiron being in Aries for the next 8 years? This healing has nothing to do about what is expected of you, it is more about the healing of your identity.
It is important to remember that you are exactly who you are and who you were meant to be. You are in exactly the right place. Your existence is no accident whatsoever. And as if often said: you are here for a reason.
If you like me, wonder many times, what is the reason then. Believe me it may not always seem crystal clear, but it is true.
Astrologically speaking there is a lot happening this month. We have a new moon coming up on the 4th, in Aquarius giving us positive, supportive aspects and making it as they are saying: 'one of the most auspicious new moons this year'.
If you are planning a big project in 2019, then this is your new moon. Start something now and you will have more opportunity for success. So use this moment to finally decide about a plan you may have been mulling over for quite a while. This new moon will influence a specific area of your life, from health to abundance. It all depends on which house it occurs in your own chart.
I certainly cannot explain all the in's and out's of a natal chart to you in this blog, I do not have the expertise and there are many people who do, but the zodiac is made up of 12 houses and 12 signs. Depending on the moment of your own birth, if you know the exact time and place, you can google your personal natal chart for free on Internet.
I will try to use mine as an example. I was born 20thAugust at 03.45 am London time. At the exact moment of my birth I had several planets in my first house, which is Leo. The Sun, Neptune and Pluto. My ascending sign is also Leo (a fire sign). There is a photo further on in this blog.
Just in case you are wondering what I mean by a 'fire sign' this is a summary of the signs:
Fire: Aries, Leo and Sagittarius
Earth: Taurus, Virgo and Capricorn
Air: Gemini, Libra and Aquarius
Water: Cancer, Scorpio and Pisces
So what are the general characteristics of each element?
FIRE signs are passionate people, dynamic and sometimes tempermental. Full of energy and drive. Fire keeps you warm or it can be very destructive. A fire can burn out very quickly when not tended regularly. But at the same time can regenerate power from the ashes (a little bit like the phoenix who rises from the ashes – some of you will probably remember Fawkes from the Harry Potter books). A single spark can set off a forest fire. Fire signs need to be nurtured and managed carefully.
AIR signs are all about action, ideas and motion. The 'wind of change' so to speak. Where some people may be true life 'airheads' others are as powerful as gravity itself. Air signs bring a breath of fresh air when things start to go stale. Like a breeze you just cannot catch them and you will never know where they will drop you as they sweep you up. But it will always be an adventure.
EARTH signs are keeping it for real. Exactly like the saying 'down to earth'. They remind us all that you need to start will a solid foundation. Slow and steady, builders who are loyal and stable and stick by people in times, which are harder. Practical on good days, at worst very materialistic and too focussed on the surface to really dig deeper.
Finally the WATER signs: Intuitive, emotional and ultra sensitive. Mysterious a bit like the oceans themselves. Refreshing or they can actually drown you in their depths. Intense dreamers ,which can go so far as almost being psychic. Security is really important, after all water needs to be in a container otherwise it dries up and disappears!
So now you know a little bit about your own sign, then we will come back to the month of February and what is in store?
February 10th, Mercury enters the sign Pisces. Imagination and Inspiration are the words here. A lot of artists are born in this situation because Mercury reads thoughts. Creative project? Then re-discover the artist in yourself. Not necessary taken literally, but in other forms too.
February 13thMars is conjuncting with Uranus. Action, Identity, Freedom and Liberation. Want to make a 2.0 version of yourself, this is the moment.
On Valentine's Day, February 14th, Mars will enter Taurus. Mars is the planet of action and this may prompt you to take initiative in love and relationships. So speak up. Perhaps tell someone your feelings, which you have never dared to say before.
February 18th: Chiron enters Aries. The most eventful day of this month. A really significant long lasting transit. Exactly at the same moment Venus conjuncts with Saturn in Capricorn. Chiron is a big deal in Aries even though it actually would prefer to be unnoticed. If we bring this together with the word: Identity and the thought of a wound which never heals, which when triggered brings up feelings of shame, guilt and worthlessness, then you will get the reason why this is such a big deal! Astrologically speaking. Because how many of us out there know these feelings all too well?
Chiron 'feels' exposed in Aries because say for example if Chiron is in the deep waters of Pisces he can remain there happily undetected. But not with Aries, because it is all about 'coming out of hiding'.
The idea that you can finally deal with something that has been in you for a long long time.
February 19th: Full Moon in Virgo. A very Aries like full moon this time. So the healing will begin almost teasing us all with the promise of if you keep going, there will be freedom.
So how can we all heal the wound of identity? And liberate ourselves. Answer through Virgo. Virgo is a sign which is all about reconciling a matter and the spirit, in a sort of half man/half beast way. Chiron wants to heal both sides of himself, the man and the animal. So what is the lesson here? Be aware of the two separate parts (almost the same idea as your masculine/feminine side – we all have that!). So in a nutshell remind yourself you are half human and half divine.
February 23rd: Venus conjunct Pluto, which brings intense emotion, strong attraction. Touched by Pluto Venus knows how to use her power exactly and get what she wants.
February 26th: Venus conjunct the North Node (yes there is a South Node too). The nodes and their position are all about karmic destiny and past lives.
At this stage your heart knows that really there is no such thing as complete and utter perfection. But the never-ending journey of trying to find said perfection, the endless climb to the top, is worth it in the end. The journey is always more interesting than the destination, but the view when you get there is magnificent. Scenery has changed. Life has changed. Without really noticing you have become a better version of yourself. The wound may be healed once and for all. Remind yourself of this.
And this is only what is going on in one single month: February.
Astrologists use the term Conjunct when planets are in the same sign. Semisextile means 1 sign apart, Sextile 2, Square 3, Trine 4, Quincunx 5 and Opposite 6. Seven in total.
Other major aspects are T-square (3 planets at 'war'). A Grand cross or Square (4 planets at 'war'). A Grand Time (3 planets in harmony and Yod is the so-called Finger of Fate (sextile, quincunx, sextile).
This is a photo of my own Natal Chart, which is free and you can download your own, but just to give you an idea of the houses, the signs and where the planets were exactly at the time of your birth.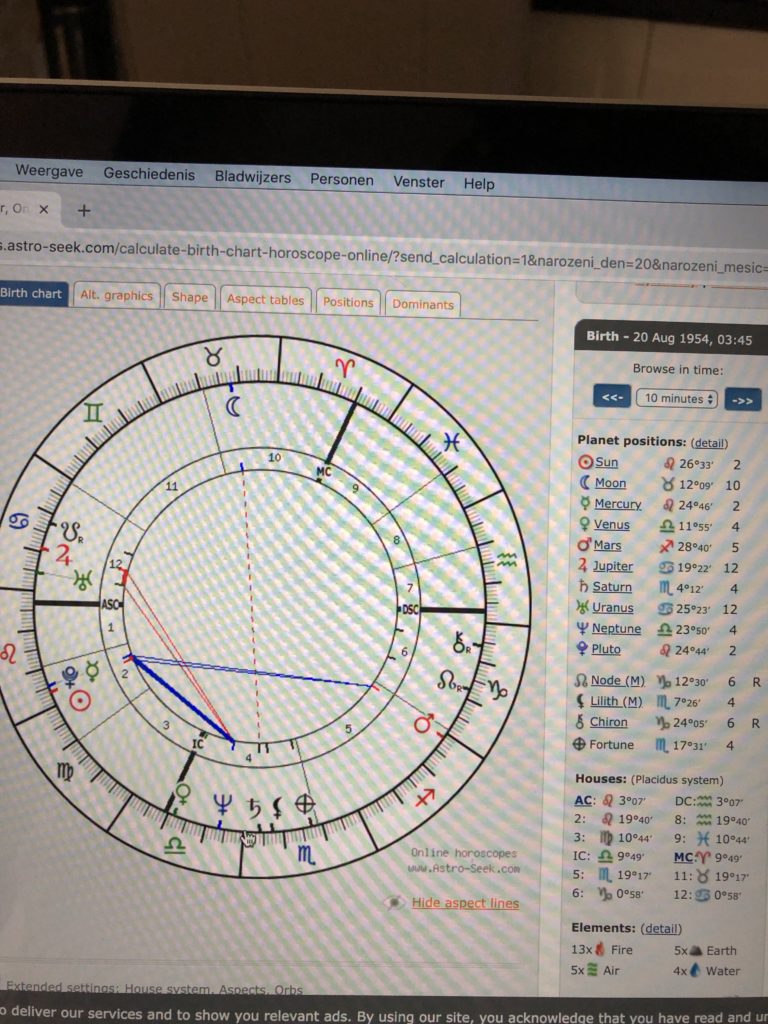 Remember Chiron is going to be in Aries for the next 8 years!!
So a suggestion, connect with a fire person who you know who will help you to get passionate and full of energy. We can manifest anything we want really when we really start to pay attention and get into second gear!
By the way Venus is on a mission this month too, to find the perfect love!
Having made this blog today, on a rainy Saturday morning, I am filled with thoughts about the arrival of my granddaughter this month. Of course we all want her to arrive to keep the tradition going in the family on the 20thof this month (her actual calculated due date is the 23rd). But I have the uncanny feeling it might just be the 18th!
Images: Google and special thanks to astrologers Kari Samuels and Astro Butterfly for your inspiration and regular posts.