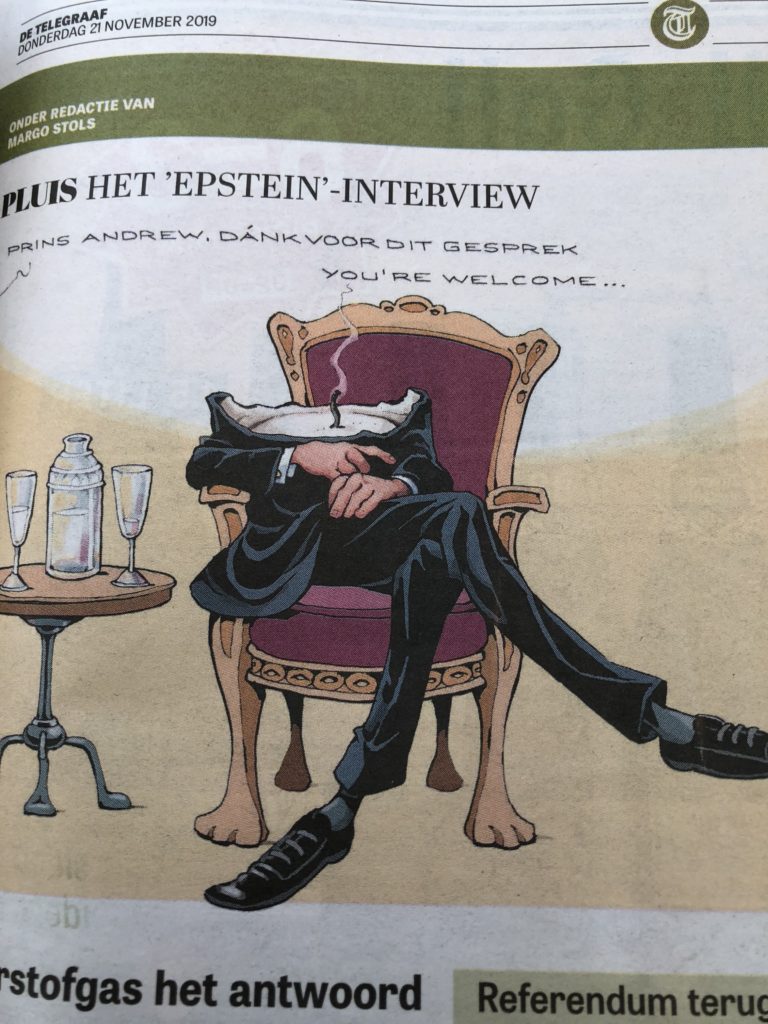 I wasn't really going to get on the bandwagon too and write something about the news surrounding the British Royal – Prince Andrew, but this cartoon in the Dutch papers this morning just made me laugh out aloud and so here goes then.
The interview which I am guessing many people saw was in one word a fiasco. Just a load of nonsense from him and in particular my question is: can you remember what you were doing all those years ago on one particular day? The day he was supposed to have abused Victoria Roberts. (or had sex with a minor, which is against the law).
Personally, I have difficulty in remembering what I did last year on a certain date, let alone 18 years later. The offence took place in 2001.
And what is more; what a load of crap about not being able to sweat? I mean how stupid does he think we all are? You cannot change a simple normal body function just because you have difficulty in owning up and telling the truth. You would have thought the questions he as being asked during the interview would have made him squirm and sweat profusely! Squirm he did for sure in his chair. But the arrogance and smiling face all the time. What a hypocrite.
For those of you like me who have now 'binge watched' the third series of The Crown on Netflix (which was excellent and so accurate on the details, cost by the way 50 million pounds to make) will agree I am sure that this is not a normal family. I mean so many scandals, thinking back to Princess Margaret, who was an alcoholic most of her life and had a raging affair with Roddy McDowell whilst still married to Lord Snowdon who was also having an affair in their marriage. Almost makes them seem like 'normal' people doesn't it. Because things like this do happen. I am not saying it is right, but it is unfortunately a fact of life.
The strange thing for me this series was that as a child growing up in the UK in those years, that I could remember a lot of the events. Aberfan for example, such a tragedy.
The so called 'institution' of the British Royal family in these times is a complete farce. Yes, sure they do a lot of good things and it is not easy being in the spotlights 24/7 but in the end, they are just normal people who just happened to be born into a privileged position. I am just adding here reading back that I am so glad I was not born into a family like this. Sure, it has its advantages, but so many more disadvantages. It can never be an excuse for such behavior as Prince Andrew's because you just happen to have been born 'with a silver spoon' in your mouth. As we say. Different corners, so different rules. I do not think so!
To my mind Prince Andrew was always someone who was never center stage in the news. He was off somewhere doing military service, and when his marriage went wrong with Sarah Fergusson, sorted of faded into the background. We all know that this marriage was doomed, similar to Diana's when it concerned royal princes, who think they are a cut above the rest. And they can just do what they want. Wrong! They are people who are supposed to set an example to others. What a joke then.
Were you surprised like me in the Netflix series that Prince Charles actually fell in love with Camilla before her marriage to Parker Bowles? All the nonsense he said later when his marriage with Diana ended in divorce, that he wished he was Camilla's tampon? Er sorry get real, who says things like this?
Anyway, back to Andrew who we all know has been a very naughty boy who could not keep his 'dick In his pants and of course he knew exactly what he was doing! Being the father of two daughters, one would think, he might have had second thoughts. But oh no, anything for a quick shag. Ghislaine Maxwell, daughter of the newspaper tycoon, Robert Maxwell has suddenly disappeared off the globe. How convenient. She was apparently Epstein's PA or whatever name you want to give her.
Epstein actually took his own life so that he was not involved in the allegations of sexual offences with minors and that left Prince Andrew holding 'the baby' as we say.
His interview was a disaster but huge compliment for the person who interviewed him for her tenancy. Well done Emily Maitlis! She kept asking the same question and he was visibly squirming in his seat. Wouldn't we all have had much more respect for him if he could have admitted his mistake. I think people who have paid much less attention to things if he had. Let's face it British royals have been having affairs in and outside their marriages for centuries. So, what is new really? Not a lot apart from the fact that Prince Andrew was so stupid as to have sex with a minor, knowing full well, and certainly with his education that this is breaking the law. With two daughters of a similar age, you might have thought he would have restrained himself. Sown his oats elsewhere with a person of his own age. He even had the audacity to rope his eldest daughter Beatrice into his lies, saying he was having a pizza in a place in Woking on the alleged night of the offence. In 2001? He can remember that exactly. I don't think so do you?
I know I certainly could not remember one particular night in 2001 and what I was doing? Could you?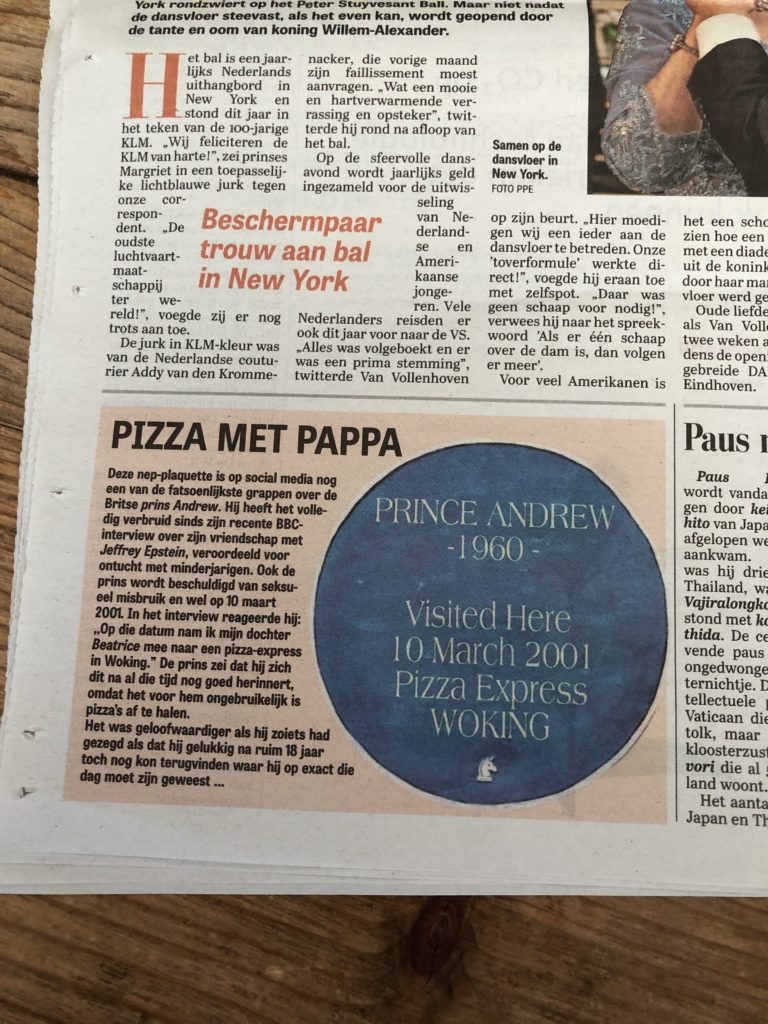 Anyway, the upshot of this whole sordid affair is that he has resigned from all his royal duties. I agree. Who on earth would want to be talking to such a spineless individual? Hope they find a suitable place in Buckingham Palace where he can hide away with his shame! I wonder does he have any? Probably not.
My thoughts go out to Virginia Roberts, who has made an official statement under oath to the FBI about what happened. It will not surprise me one single moment when she suddenly disappears off the face of the earth. We all know she is talking the truth, so why couldn't Prince Andrew have done the decent thing and said, yes, he had done something terribly wrong, apologize sincerely to her personally in public and then there would never have been so much fuss as there is now.
Shame is all this fuss coincided too with the 72th Wedding Anniversary of the Queen and Prince Philip, who really did not have a normal married relationship with one another, but they stuck it through for 72 years so bravo for that. Even though everyone knows that Prince Philip like his sons, also often thought the grass was sometimes and definitely greener on the other side of the fence.
Images: De Telegraaf, Pluis 20th November 2019
Pizza met Pappa (De Telegraaf 25th November 2019