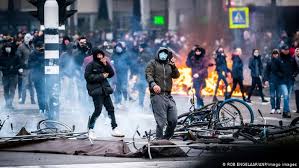 I wondered if I really wanted to join 'the bandwagon' and write something about what is happening here in The Netherlands, since the introduction of the 'Evening Curfew " last Saturday from 9pm until 4.30 am. This is an extra rule to just keep people off the streets and congregating and 'spreading' the Covid-19 virus. It is supposed to help as an extra, up and above the virtual total lockdown we have here since December.
Of course, and I will say this first of all, we all need to take action. We are all tired and fed-up of Corona and being stuck indoors, no shops open apart from supermarkets and such like (in other words 'essential items'). People are fed up working from home and at the same time teaching their own children at home. The schools are shut and have been for weeks. I cannot personally comprehend the numbers to be honest, even though we now have the British and South Africa strain of the virus detected here. The numbers infected and dying increases every day. Hospitals are full. Entire towns of people near to Rotterdam have all been Corona tested (more than 63.000 to be exact) and the vaccination program is slow and seems to be undergoing difficulties.
Not enough vaccines to start with, not enough people to give the injections and so it goes on. Anyone who can actually bear to watch the News, which I hardly ever do, it is just all doom and gloom.
The thing is do you allow yourself to be influenced by all this negativity or rise above it? That is a big question and probably hard to answer. How true is all the news, how much are the figures 'manipulated' or not?
However, this blog was to talk more about what has happened since the curfew and to be outright, it is absolutely disgusting what is happening in major towns and cities.
Riots, pillaging and plundering. Setting cars on fire. Smashing windows, stealing from shops and all the 'youth' being called up on social media to join in and create as much havoc and damage as possible. This is not protesting; this is downright terrorism and hooliganism. No other words needed.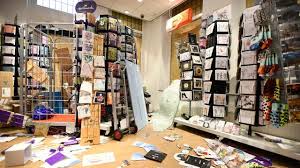 It is heartbreaking to see police horses being hurt and falling as the angry crowds gather and hurl anything they can find at the police, ambulance personnel etc. Shops which are suffering enough through lack of income being totally ruined and it brings tears to your when you see a shop which sells greetings cards, books, stamps, stationery etc., being totally smashed up. Tell me please what is the purpose? This is not the way to protest to the Government about the lockdown and curfew. This is stupid, senseless, destruction.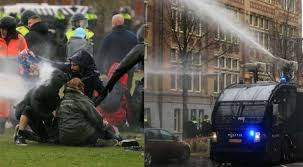 And then you ask yourself, what people do this? What parents stand by and know that despite the curfew their family is out on the streets? Why and what are they up to? The images are alarming to be honest and it spreads literally like 'wildfire'.
Yesterday, a policewoman wrote a really good letter on social media … inspiring and made you think, and I was tempted to react because something happening in my own family which was really the other side of the coin.
My son works in the food industry on the so-called 'Maasvlakte' in Rotterdam. He does shift work and has special dispensation to be out in curfew hours. Very necessary if your shifts end during said times and you either have to travel to work or home. This week he was called in unexpectedly for an extra shift, because yes, these industries are suffering as people are off sick too. On the way home he needed to get petrol. Two police cars trapped his car and 4 policemen got out to ask why he was out. Even though he has all the documentation to explain why, he was told that he should get petrol during normal day hours, a bit difficult don't you agree if you have been on night duty and have to sleep during the day? And he did not expect to go out and the last thing you think about is petrol until the warning light comes up.
He got an official warning which I thought was very unfair and to be honest, I would like to suggest maybe that the police would be better concentrating on these riots than wasting time doing things like this. Once the explanation was given, end of the matter you would think, wouldn't you? I thought this is really another side to the story written by the policewoman even though I agreed with her words completely.
Last evening too, thugs were throwing stones and paving slabs from a viaduct onto passing cars on the motorway. This is not protest, this is destructive nonsense and actually you can kill someone if the slab crashes through their windscreen. Attempted murder, trial and prison sentence. This is not screaming your head off about not being allowed to be out at night. This is something which could affect innocent people. Shame on those who were present. Well more than shame!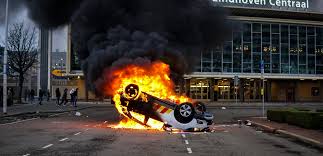 And so… it goes on and where does it end? Lifting the curfew will not make things better. Thugs and hooligans should be severely punished. Police are armed here with weapons and should they use them? It does not really solve the problem, but it maybe would make them think twice. But even that is doubtful because these people (probably unemployed and receiving a hand-out from the government) and maybe don't have enough braincells to understand what they are doing. This is as I said several times, not a protest or a demonstration, this is destructive hooliganism. I saw that someone suggested that the water used in water cannons should be colored with permanent ink, so that the 'soaked' protestors cannot remove it and everyone will see and witness this. To be able to see their shame. If they have any and that I doubt very much indeed. Maybe that is a good idea? I don't have an answer. But for every hooligan or thug, there are so many good people as well.
One uplifting thought was that a lot of people turned out with brooms and such like to help clear up the damage. A lot of shattered glass everywhere and then I thought, this is what makes good people what they are. That communities join together to make the repairs, to show solidarity with those affected by this complete and utter nonsense. That is positivity and makes you feel there is hope and some light at the end of this lockdown. Support for your community in the clear up after a night of violence, destruction, pillaging and plundering.
Basically, people are good and it is in our nature when disaster strikes, to help one another. To give our support and offer aid. Do you agree?
In times of so much fake news and so much manipulated information, it has to raise questions surely? I saw this happen when people turned up to help others clear up. To help to board up windows which have been smashed, sweep up the glass from windows and bus shelters lying on the ground in thousands of shards. To clear up where cars have been burnt. Where pavement stones have been removed to throw at the Police. It is too shocking and the list is too long!
It is time that we unite and stop this in The Netherlands, but the big question is how?
But one thing is certain, it has to stop and stop NOW!
Images: Google