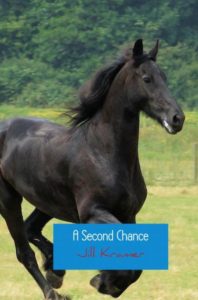 CHAPTER ONE
Christmas in New York
It was a really cold day and as the plane taxied off toward the runway it started to snow. Kate was glad that she has decided to take her full-length coat with its real fur collar, as she was sure it would be even colder in New York at this time of the year. The engines of the plane got louder and soon the Boeing 747 (completely full) was charging down the runway ready for take off. After a steep climb up and through the clouds. Kate hoped there would be some blue skies and some sun on the long flight into JFK.
It was quite some time since she had been to New York. Three years to be exact. In the past she had been many times, but more often on business trips rather than for pleasure. Her dear friend Beth had asked her to think about having a holiday and spending Christmas with her. Christmas in New York! She was looking forward to it so much. Christmas trees, lights and the buzz of a city that never sleeps.
She settled herself down into her seat on the plane, glad she had got a bit more leg room in the comfort class. Business Class was so totally over the top expensive these days, luxurious, but to be honest she would rather spend the money shopping in New York than actually paying a fortune for a plane seat! The stewardesses were rushing back and fro as the 'seat beat' sign had been extinguished and people began to move about.
Kate got out her Ipad and went to her e-books. It was the only way to survive a long flight she thought to get engrossed into a book because the flight was quite boring after take off.
There was a good film on offer, but for the time being she was happy to read the book, the latest from Dan Brown, an author who she loved and again about his character Robert Langton, so she knew it would be an exciting book from start to finish.
Some of the places mentioned in just the first chapter were familiar to her. Montserrat just outside Barcelona was a place she had visited several times.
She was glad that the seat next to her was filled by a small child, who had fallen asleep within minutes of the plane being up in the air and she was not squeezed in by an older larger person. Flying time to New York was nearly 9 hours and she would be there around lunch time local time. 6 of the hours being the time difference at this time of year.
Within minutes she was totally engrossed in her book, the plane flew across the north of England and Ireland and then all the way across the Atlantic Ocean to John F Kennedy International Airport.
Her mind wandered off her book and she closed her eyes. Having had such an early start to the airport, it was not surprising that she drifted off into a sleep, filled with mixed dreams about the past year, what had happened and it could be concluded that 2017 had been an eventful one for sure.
She was woken by the stewardess asking her if she would like a drink and something to eat, the majority of passengers were already eating those typical plane meals. She accepted gratefully. The air in planes is so dry it made you thirsty.
After she had finished some food and had a warm drink, Kate began to feel drowsy and settled down with the very inadequate cushion on planes and closed her eyes. It had been such a busy build up to Christmas this year. A couple of years ago she had started a little company called the Baking for Beauty.
She and her friend Thea, whom she had known for almost 20 years, suddenly had had the idea that they would make things for beauty based on the idea of bakery. Soaps were shaped like slices of cakes, 'bombs' for in the bath were shaped like donuts and so the ideas had flowed. There were body scrubs, body and hand lotions, hair masks and lip balsams. In the summer they started making products, all of which were purely natural and included no artificial ingredients and special boxes for Christmas and birthdays. After a lot of publicity on social media, things had taken off big time and the orders were piling in. It was a really busy time for them both (not to mention all their staff now) and that is why Kate had decided she needed a complete break and had chosen to go to New York for Christmas. She and Thea had been making, stirring, filling and boxing for weeks on end. Every single muscle in her entire body ached from the physical effort, but this year had been a record one for sales, their biggest ever.
She was grateful to the huge amount of helpers they had had, it was a full on job with little time to relax until all the parcels had been despatched and knowing that there would be a lull in orders during the week between Christmas and New Year, she had made a snap decision to accept Beth's invitation and actually go off on a trip somewhere completely different and away from the endless invitations to spend the days with the same people year in, year out. She was thankful that after her divorce the majority of her friends had remained loyal, but she still felt a bit of a loose end on her own during the Festive Season.
It was not long before Kate had drifted off into quite a deep sleep despite the plane noise and the huge amount of people on board as the plane was completely full not a single empty seat. In her dreams she was thinking of New York, of all the times she had been before and being a real romantic, wondering if she just might meet someone really special on this trip?
When Beth mentioned the idea of New York, she had just happened to see a picture of Central Park in the snow, it looked so pristine and white and so lovely, her mind was made up instantly.
In her dreams she was already there and having a totally romantic and wonderful time, and it was announcement on the tannoy that the plane was preparing its descent into John F Kennedy airport, which woke her up in a start.
After taxi-ing to the terminal and disembarking Kate joined the long queue through the passport and customs section. They were thorough and strict here and even though she already had her ESTA visa in place she still knew there would be fingerprinting and eye photo's to be made. Since the terrorist attacks in the USA, it was a nightmare these days and people who came into the country were screened literally from head to toe.
She collected her luggage and went out into the cold sunny day to join yet another queue for taxi's or limo's into the city centre. Beth lived in a beautiful top storey loft apartment in the Meat Packer's District in Lower Manhatten.
Eventually she ended up sharing a taxi with a man who was obviously either coming home for Christmas or doing a last minute business trip. As they both got into the taxi at the same time, and he asked: 'share', she had only nodded. He looked tired (well who would not after a long transatlantic flight), sad eyes but the most amazing colour blue and a boyish appearance. She didn't really want to make conversation or share a taxi, but it was inevitable really having to with someone when plane loads of people arrived at JFK at the same time, the number of taxi's and limo's were limited too. So she just stared out of the window and made no conversation. Neither did he.
The car sped through the motorway lanes towards Manhattan Island and her first glimpse of the Hudson River and the bridges crossing the water and the sky scrapers made her feel excited. She was really looking forward to being back again and also meeting up with her friend Beth, who she had not seen since her last visit.
The taxi dropped him off first in Upper Manhattan, at the top of 7th Avenue to be exact. She knew it well, it lead immediately down to Times Square, past Carnegie Hall. She carried on then on her own to where she would be staying.