COUNTING DOWN, 3..2..1
06.30 am 22nd May 2018
A second chance for my heart, the story starts ..
12THMarch 2018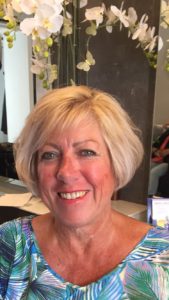 Finally months and months of waiting are over. Tomorrow is my appointment with my cardiologist, Dr. Lukas Dekker, at Catharina Hospital in Eindhoven. An early start, the traffic can be busy around Tilburg and I want to be there on time. I want to be at least half-an-hour early so that I can settle myself into a chair with a coffee and wait my turn. It is the last appointment of the morning session but I know him well and he is always either early or on time, so I want to be all relaxed and ready.
The discussion tomorrow is going to be about finally taking the decision whether or not he will do ablation in my heart. I have had arrthymia now since 2009 and under his care since 2012. Believe me a lot had happened in the past 6 years. I have had my medication changed many times, several echo's done and three sessions of cardioversion, when they stop and re-start your heart, hoping that it will stay in rhythm. It is always a case with the cardioversion (as they say in the hospital: 'guarantee to the door') I have been quite lucky on that score. My heart seems to go back easily into its proper rhythm but eventually the electrical circuit in my heart goes haywire again and it is all over the place. One minute slow and often missing beats and then racing along, far too fast.
It is hard to put into words how this actually feels. First of all you are constantly thinking about your heart and its rhythm whether you want to or not. You feel the beats in your throat, because of the major arteries and veins running up to the brain. When you lie down in bed at night, you can hear it in your ears. Lying on the left hand side is sometimes impossible because you put extra pressure and weight on the heart itself and it feels weird.
Quite by chance one day, way back in 2012, I just happened to see something on Twitter about a live operation happening in Eindhoven. This was a new method to actually cure my problem.
When I first met Lukas I knew instantly that he was the right person to take on the care of my heart. I felt a calm feeling of complete trust and all through the years I think we are basically a good team together. I knew deep down inside that because of the previous history I have with my heart, that he would always try to choose non-invasive treatment until we reached the point where nothing else was working and that ablation was inevitable.
I remember that very first meeting in 2012 when I told him about the heart operation I had had in 1974 in London, England and that the world famous Christian Barnard and John Parker had repaired my mitral valve and yes, here I was, living proof that surgery done all those years ago was still working. I remember him saying how amazed he was; not only by the names, but that techniques done in the pioneering years of heart surgery were incredible. It was in December 1967 that Christian Barnard performed the first heart transplant in South Africa and then he went on to teach other cardiologists around the world including those in London. All of whom are, or were, famous names. What a lot has changed since those early pioneering days.
All the time I have been under Lukas's care it was good that we can communicate well with one another. Each and every change made in medication was discussed and the consequences too. It is so important I feel to have a good connection between doctor and patient. A mutual feeling, which is built up over the years. It was therefore so easy to say if I felt something was not working well at all, for instance when he put me on beta-blockers last year, I had a really tough six months, my heart was beating around 40 beats per minute (bpm) which was so slow that even getting up and walking around became a huge physical effort for me. I was so glad I could actually say so and he made the decision to stop them.
Taking a lot of medication every day is something I do automatically now. I am thankfully on Pradaxa (anticoagulants), which means that I don't have to have my blood checked every few weeks to see if it is OK. The risk of blood clots forming in a heart, which does not beat properly, is high in the case of arrhythmia, and because of the danger of having a stroke. I seem to be able to tolerate this medication well.
Over the past few months I have been losing weight. That was a criteria. Not easy, but I have done my best I think. Cut back on a lot of things but at the same time I did not want to become 'a shadow of my former self' not at this age. I cannot change the basic framework and bone structure of my body, and I don't want to become skinny and old, whether it is enough, tomorrow will tell. I have done my best that I know.
Personally I don't like scales and getting on them, so I haven't mainly because I cannot work mine (too complicated) and it can be so depressing when you think you have done your best only to find that you have lost one ounce. But my clothes are just so much looser; my very tight jeans are now billowing around my legs.
With this appointment in mind tomorrow, when I think we will have a discussion whether or not ablation is going to finally cure my atrial fibrillation, has had me thinking a lot over the past few months whilst waiting for this appointment.
There is no doubt in my mind whatsoever about my own cardiologist. Lukas is the best and excellent at his job and I trust him implicitly, so what am I thinking about?
It is my own mind-set, which is at 'sixes and sevens': On the one hand, I know he will do a brilliant and professional job, but I also have to play my role in this operation too. I have to go into it with, as I just said, the right mind-set. To be honest I don't have that today as I type the first words. Why not? I keep asking myself.
This morning I was awake early going through hundreds of different scenario's about what am I going to say tomorrow. I know the first thing he will say when he calls me into his room is 'how are you?' and what is my answer then? I am feeling emotional already. It is easy to talk to him but the time is limited and I just want to be really sure, one hundred percent sure, that I am absolutely in the right frame of mind which is another way of saying mind-set. Is that my big question?
I know that I can do all sorts of meditations and other spiritual exercises to boost myself, so why not? Everything helps and maybe I will feel a bit calmer, but tomorrow my heart will be racing like an engine when I have my ECG done because I just know how much is at stake. I really want to be cured of this problem once and for all. To literally get my life back. Perhaps that is what I have to concentrate on. Not about all the details, potential risks and such like, just go into this whole procedure knowing the best man in the country will take care of me. That has to be enough. Just as long as I am in tune with him on an energetic level. What is wrong with that? Nothing of course.
I will explain. An energetic level: by this I mean that there is always an exchange of energy between all living things. Each and every person, animal, tree, herb, flower etc has its own energy field. In people we call this an auric field. So when two people are in one room, their aura can literally fill the room. Not everyone can literally see this, but many can feel it. I have seen auras since I was a child, so I can easily 'see' the movement of the energy. It is almost like an exchange If you like, that is so why it is so important I feel to be in tune energetically with someone when you are literally putting your heart in their hands.
To be perfectly honest I am not entirely sure what the matter is with me? Nerves or taking a big decision perhaps. Normally I am pretty cool about everything. In November last year during our phone conversation there would not have been one single second of hesitation. So why now? Isn't my priority to get cured once and for all?
Of course it is and having just typed that I am saying 'come on get a grip and get organized'. So with less than 24 hours to go to my appointment, going to spend the rest of the afternoon doing just that. Not going through endless possibilities, ideas, shall I say this or that, doing something completely different and going tomorrow with a fresh mind, fresh ideas and just see what happens? That is the best I feel.
 The actual appointment 13th March 2018
It is the most horrible day imaginable weather-wise. Totally uninspirational. Grey, thick clouds and pouring with rain and cold. Traffic will undoubtedly be busy. Always the same when it rains, more people go by car.
Now having said that Lukas is either always early or on time, his clinic was really busy and he was running late. After my ECG and chat with his assistant, sat down and waited until he eventually called my name. But I know in between he always finds me somewhere in the waiting room.
Strange how our conversations seem to pick up just as if I was there the day before. We are able to talk easily with one another, especially over the years, when the doctor/patient relationship has really become more of a friendship.
It was a good conversation, we talked about the procedure and when he suddenly asked: 'do you want me to do it?' I nearly fell off my chair. What a question! It is him or nothing, which is exactly what I said. So, yes decision made. We are going for it. A few formalities like filling in a form and having my blood tested and now it is a waiting game until the email or phone call comes giving me the date.
The lovely thing was on the way out of the hospital I was just about to stop and visit the restrooms and we bumped into one another again in the corridor. He just said: 'don't worry, ready to go and I will take really good care of you'. I mean no words needed anymore. I am ready and waiting to take this second chance. A second chance. To get my life back, feel fit and well.
Now 'patience' is the key word, playing the waiting game …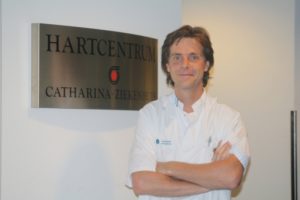 Lukas takes over this blog: (26thMarch 2018)
Doctors want to prevent and cure diseases. And, at least equally important, doctors want to prevent doing harm. Primum non nocere (Latin for "above all, do not harm") is a classic principle in medicine.
Therefore, curing people in a safe and effective way makes the day for each doctor and nurse. We constantly aim at making our way of working safer and better. For me, it is a joy to work with the best equipment and, more importantly, with experienced nurses and technicians. This team, the collective of skilled individuals that know how teams should communicate, is the most important determinant of successful treatment. I, therefore, fully understand patients who are critical and demanding, as they will also appreciate a job well done.
Pulmonary vein isolation (PVI) clearly exemplifies how this works. The Catharina Heart Center is the largest EP-center in the Netherlands, performing about 1500 ablations per year.  We perform about 500 routine first PVI-procedures, using a cryo-balloon in the left atrium in patients with a fibrillation.
This procedure is a routine procedure that should be as safe as possible, with optimal outcome. The success rate after a first procedure is about 80-85%, and major complications are extremely rare. I truly believe in this technology.
So, Jill, you are not the worrying type, and we will not disappoint you.
28thMarch 2018
He is right no doubt whatsoever in my mind and I am not worrying at all. I know that I will be in extremely safe hands with my doctor and his team. Just waiting, waiting for the date. It is Easter this coming weekend, so a couple of days will not be available for the planning. Originally I thought that the date would be 5thApril 2018. This is actually a nice date for me numerologically: First of all this is an 11-year (just add up the numbers). When double figures occur we don't split them down in a single digit because this is a so-called 'master number'. Eleven crops up a lot in my life and then 5thof the 4thmonth makes a 9 (again another one of my numbers). It will be interesting to see if I am right and my original first thought too.
4thApril 2018
Easter has been and gone and now into the month of April. Still no date! Why not?
I have moved so much in my own agenda around so that I was free and ready as instructed!  Quite by chance and probably a good thing in retrospect, found out that I will not be on the list until at least after the 23rdApril. Lukas has holiday plans, which by the way is perfectly ok by me, I am pleased for him that he is having a well-deserved break from his breakneck schedule. But, all sorts of strange emotions come up inside, from irritation, impatience and several others, which I will not mention. I see myself stepping back in time to the wrong mind-set once more. I should probably say to him next time around don't say anything about the time schedule. But I won't. Just leave it and practice something, which is not really easy for anyone – patience. It is a virtue as they say and the majority of us, in these fast moving times, me included, just want to get on with things. Of course I would have preferred it all to be done by now, but obviously some sort of 'intervention' has taken place and so be it.
This morning woke up with a song going around in my head – from Rag 'n bone Man. 'I'm only human after all, don't put the blame on me'! Too right, we are all that.
So relax and wind down again, nothing is going to happen until at least after 23rdApril so I can now get on, in peace and quiet, with a lot of projects that I pushed to one side.
This morning read a post by an astrologer friend of mine, Kari Samuels, all about the month of April. She says, today is a 4/4 day – four represents stability, earth and practical matters. OK. When many 4's are present it is time to square your corners and find freedom within restriction. Boundaries can be your best friend at the moment. Squares have 4 corners, today Mercury in retrograde squaring fiery Mars in Capricorn. Stabilize ambitions and ground before you put your plans into action. Sometimes (and this is the most relevant part for me) the slow way is the quickest way. Build deep roots and growth cannot be rushed.
The best is worth waiting for in the end.
16thApril 2018
They say time flies, how true. Have been side-tracked by the death of my former boss and friend. Funeral was at the weekend and the entire day went just as he would have wanted it. Celebrating his life and not being sad. The nice part was re-meeting old colleagues after 30 years. Men I remember being in their prime are now into their 80's. But it was a good day; weather was perfect and afterwards catching up on stories and memories. When someone says to me that I look exactly the same 30 years on, wow what a compliment. In the end the whole weekend turned out to be a 'trip down memory lane' and we all left with the idea if Hans had been watching us, he would have been so thrilled that his final journey had been that way.
Today is the start of a new week, so getting on with projects and keeping myself busy. Chatted to a friend in Chicago who I have not spoken to for a while this morning, 7 hour time difference so my breakfast time and in the small hours of the morning there. We suddenly realized that we had been talking for over an hour and half, and that it was now 4am Chicago time, so finished off the conversation. You always know that despite the time in between, such friendships just pick up from the moment from where you left off, just as if it was yesterday.
So I wonder if I am going to hear anything this week? To be perfectly honest I have just pushed the entire idea completely to one side now, we shall see.
Moving on but at the same time keeping connected.
25thApril 2018
Where has all this negativity come from? I can see that because of all the things that are going on all around me that my personal level has dropped down considerably so much so that I sent off an email this morning. Lukas replied really fast and we are going to talk by phone tomorrow. It will be 7 weeks exactly since my appointment on the 1stMay! I asked myself after a really weird dream, why this was happening? Normally it is very simple for me and there are countless ways to do this, keep my energy at a steady level, but I think the 'unknown' was to blame. Not knowing when and if a date is going to happen. I allowed myself to be literally 'pulled down' why I don't know? Just too much going on and my concentration being distracted (interrupted) by this and that all the time. So after the chat tomorrow when there may be more clarity and the status quo restored, going to do some things which do not involve me typing words on my laptop, but something more grounded, like the garden, filling the pots with flowers, doing something creative and I have a nice idea in my mind, having visited the Spring Fair last Saturday in Kats. It is time for a real 'time out', cleanse out the frustration of waiting and do something completely different for a change. Celebrate the King's Birthday on the 27thwhere there will be a lot more going on that usual everywhere.
11thMay 2018
Well you know how I keep saying that everything happens for a reason. Well it does. Today is the 11thMay and I have finally received a notification about the date: 22 May 2018. My goodness it does not get better than this for number combinations: seriously.
2018 is an 11-year, (just add the numbers and because this creates a double digit number we do not change it from there), now I have the 22 to add to it and then by adding the two 11 and 22 we get 33. So a triangle combination of three master numbers. The triangle represents the three-sided shape in sacred geometry, the building blocks of the universe itself.
New Moon in Taurus, 15thMay, which always opens a moment for a new energy. Another one of my numbers, which always comes up is a 9, and guess what I have to arrive at the hospital at 9am. So even though this has been a very long wait and has caused me frustration, in the end, as I know all too well, everything, literally everything happens for a good reason. The date of 22ndMay just moves into Gemini, the sign of the twins, creating another mirror or double combination. The sign for Gemini is like a mirror, each sign reflected. Taurus is an earth sign, very grounding and good for two people with fire signs.
Gemini is also the third sign in the zodiac, originating from the constellation of stars under the same name. Gemini is represented by the sign of the twins, Castor and Pollux (stars), one mortal, one immortal. They were granted a share of immortality after the death of the mortal brother Castor. The element is Air, which fans the flames of the Fire. Ruled by planet Mercury.
The moon on the 22ndMay is exactly at the high way mark between the new and full moon and exactly 50% visible, the half.
Also a friend told me that there is a reference to the 22ndMay in one of my most favourite books: 'The Book of Love' by Kathleen McGowan. It is the story of Mathilda of Toscane and the labyrinth at Chartres Cathedral in France. Mathilda was born on 22ndMay, as well as Sara Tamar (the last daughter of Jesus and Mary) and Fatima from Portugal.
See what I mean when everything suddenly has so many reasons and why the wait was necessary?
So the countdown begins, 11thMay to 22ndMay, 11 days ………..
22ndMay 2018 (06.00 am)
A very early start this morning as the morning traffic can be horrendous and there is nothing worse than arriving either at the last moment, or late.
Feeling very calm, just as if I am personally holding one of the last pieces of the puzzle. Lukas probably has one too.
New beginnings, a new moment and finally feeling fit and well again with a heart beating in a steady normal rythmn.
To be continued ….. in part 2
Photos: Private collection Jill Kramer ©
© Dr L R C Dekker, Catharina Hospital, Eindhoven, The Netherlands