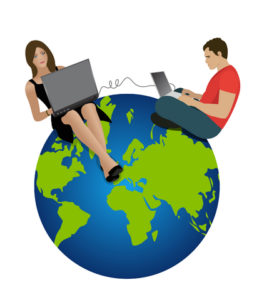 I am dedicating this blog to a very dear friend of mine who was courageous to share this story with me!
In these times we are so connected with one another all across the globe in a web of social network. You rarely come across anyone who is not on Facebook, Instagram, Twitter, Linkedin, Whatsapp, Facetime and all the rest. It is considered to be quite 'unsocial' if you are not on the net and not sharing your entire life with everyone. It is true some people are so incredibly addicted to social media that they spend the majority of their time watching what is happening on their own time lines. Every day they post up about the weather, what they are doing, where they are thinking of going on holiday, their emotions, their families, you name it we share it! All notifications are switched on, they don't want to miss a thing!
We also like or comment on all the posts of our friends, it is a wonder really that we have any time to do anything else. We are all in groups of 'friends', 'professionals' and 'like-minded' people. Virtually everyone has a smartphone, tablet, laptop or computer and with the speed of today's wifi, we are literally seconds away from being in touch with one another.
Often because we place ourselves in ever increasing circles of friends, we get messages from people who we do not know personally. The best rule of thumb is if you don't know them in that way: then do not accept or enter into any kind of exchange. But we are curious people by nature of course and we see that several people we know are also in their group, so often we accept such a request without even a second thought.
Then all of a sudden there is a message, which usually begins in a very simple way: 'Hello'. More often than not we will reply in the same way and so a conversation is underway. Then often follows a question: 'How do we know one another?'
This conversation increases in size because it literally becomes a chat online about them and you. They can say, 'oh I was browsing the net looking for someone and I came across your details and I think I perhaps know you from your work?' Such an easy innocent pitfall, which you plunge into.
Then you rack your brain, it is so feasible, that it could be the truth. Then they suggest, shall we talk further on something like Google Hangouts? To be perfectly honest even though I think I am up to speed on everything on my computer and smartphone I had never heard of Google Hangouts. Apparently it is a free way to chat with friends, through your email, either by writing, video or by phone. And all for free. What could be better than that?
The conversation now becomes a little more intimate. Questions are asked back and forth and answers given. You discover you have a lot of things in common. You may even be chatting in a different language than you normally use, but it is all 'fun' and seems 'innocent' and gradually you begin to feel you are really forming a friendship with this person (male or female).
They ask you to send a photo, you do of course because by this time, so much information has been shared … you get a photo back and of course it is a really handsome man or beautiful woman. Always is.
An innocent message has now become a 'full-blown chat' in which all sorts of topics are discussed. You make arrangements to be online to continue at a certain time and in the end you are looking forward to those moments. It feels as if you have met a person who understands you completely, thinks it is absolute destiny that your paths have crossed. They like the same things you do. Any subject it does not matter. What you don't realize is that they have completely combed your social media already and know what you favourite colour is, which flower you like the most, if you prefer red or white wine, because yes guess what, these are all the innocent things we share with one another on any social network. How many people reading this can say that they have never posted a photo of themselves, sitting somewhere enjoying a drink. Yes right, all of you have done it sometimes and even tagged the people who are in the photo with you. No matter where you are. No matter what the subject matter is.
We are all guilty as charged, myself included.
At the moment when you begin to feel really comfortable with this person, who seems to be, by this time, the most perfect person completely in tune with you, then the rot begins.
By this time, you have said when your birthday is, and they have said theirs too, so then they ask questions like: 'what would you like most of all for your birthday or vice versa and of course you reply, because it is all such fun and seems so innocent.
They tell you what they would like and then … such an innocent question isn't it? Would you buy that for me? It is bound to be something expensive for sure!
Eventually, just like the person who shared this story with me, you are completely caught up like a innocent fly in their sticky web and you have shared so much about yourself and they have to. You feel too comfortable, as if they have become a real friend even though you have never met them in person.
They innocently avoid, with numerous excuses, why they cannot talk to you directly online, the best one being is that their mobile phone is old, they need to upgrade their subscription, the camera on their laptop doesn't seem to work and of course they are so incredibly busy in their top line job (because they all have wonderful jobs with huge incomes) and have no time to go and do something about it. No sorry they say, never heard of Whatsapp or Facetime, they supposedly cannot download that on their phone. Despite promises to get modernized and get a good one, this never ever happens. They fob you off with numerous reasons why not.
The first seed of doubt is now sown in your mind. But you are hooked and chatter on with them. You really want to believe that they think you are special, the nicest person they have ever met, a few romantic words flash by in the middle of the conversations and your ego is flattered. Don't think that this will never happen to you, because it could and many have gone before you in similar situations.
Your family, friends and acquaintances begin to remark how happy you are, how good you look at the moment, because believe me flattery is the best thing ever to pep-up your self-esteem.
Life is good; everything seems to be going really right for you. If you are unattached, you are seriously thinking about making arrangements to meet one another. The chat is almost now comparable to a sort of dating site. You actually have feelings for this person; despite the fact that 'rational you' tells you that you have never even met. You don't care really. This person understands you and talks to you in exactly the way you want to hear. It is almost like a form of brainwashing. And even if you are reading these words and thinking: how stupid, this would never happen to me, believe me every single one of you becomes vulnerable in such situations.
Then the bomb is dropped. All of a sudden they say they cannot chat tomorrow, they have something unexpected. The range of excuses is huge: an operation, a business trip (because in the meantime they have convinced you that their job is marvellous) a family member has died and they have to go to a funeral. The list is endless.
You actually miss them, but a few days later, they are back and on you chat once more. Then they tell you a really terrible sob story and ask you if you can help them financially? Of course they will reimburse you but things are a bit tight and again an excuse can be one from simple to completely over the top. This is the moment when you seriously should stop and ask yourself, is this for real? The majority of us would say that at that moment we are sensible, but there are others who have been so drawn into the story, they believe it and actually are willing to help. It is incredibly sad that people are so cruel and can go to such lengths to gain such control over people.
But it is true and at the end of the day, you may or may not succumb. If you send them money then you can be absolutely sure that there will be something else and more and more excuses. Yes they want to meet you; can you send them the money so that they can travel to where you live. Believe me this really happens, I know of several people who have fallen into this trap. A complete sham and they have been taken in totally.
However, the painful side to this story is that people really become damaged. They have fallen for all the crap they have been told, because none of it is really true. The photos have all been taken off Google images, the person who chats to you is not the person you think they are and probably do not even live in the country they say they do. But it hurts you and is painful, when you come to that realization and you do, because at some stage they will become indignant with you when you don't fulfil their requests. Terrible stories like, they need an operation immediately, and their health is at stake and will often sign off in a chat when you say: tomorrow at 11 hrs, 'well I hope I am still alive'! They play totally on your sympathy, that you sign off and then worry for hours on end if they are actually OK.
It is all nonsense! That is what you have to tell yourself and be strict with yourself. It is good to confide in someone you trust and tell them your story, just like my friend did with me. It was when I said, come on this is all too good to be true and cliché's like that, they suddenly opened their eyes and realized that their soul has been 'hacked' by some really evil person. An evil person who made them feel good. Offered them all the things they felt they were missing in their own lives, a listening ear, which understood them better than anyone else on this entire planet!
But it is all rubbish! It is all geared to make you become vulnerable and to stop you thinking sensibly. They pray on some of your weaker points. When someone says you are the most beautiful/handsome person they have ever seen, we all feel good. Be honest, all of us!
As I said, a web has been woven and you are stuck inside it. But be strong and have the courage to talk to your closest friend(s) about it. Tell someone what is going on and allow them to give you a hand, to help you get out of it. They are your real friend(s). Your heart knows you can trust them and they will make no judgement at all. Just offer you that hand, that listening ear and help you to regain yourself.
Then the next step is delete everything. Really everything! Report them to the social media. After all the fuss this past week with things like Facebook and some other hacker gaining everyone's passwords. Be ruthless, report, delete and never open the account again. That is the only way.
Change your passwords. Funnily enough this was a trending topic on the national news yesterday evening and people are far too sloppy with their passwords. Often software (Apple) offers you a secure wallet to save your passwords, but remember to change the password to the wallet regularly too. These hackers are brilliant but ruthless.
A tip is to make a password a sentence. A simple sentence that means something to you. Perhaps you have a favourite book, saying or such like and add capitals and spaces. Far too many people use family names, dates of births and such like.
My friend is shaken, but fine. They did not send any money of course. Had the courage to tell and ask for help from the people they trust and I have huge respect for that. I made absolutely no judgement whatsoever. Remarks like: 'how could you have been so stupid?' is like rubbing salt into a bleeding wound. Don't do it. Be compassionate. Understand. That is what a true friend is for isn't it?