Make December a month to remember!
Since my website seems to be trending all over the world, suddenly people get in touch with me and cross my path. Often with questions about which programme I am using for my blogs and which support engine i.e. domain. Sometimes it loads up really fast, sometimes too slow, how do I add plugin's and so on. So before I go on: I am using WordPress supported by Hostnet PRO and Google Chrome is the best.
Other people have questions about my books and I really enjoy connecting with people across the globe. Often simple questions and chats turn into longer conversations and all of a sudden you find yourself with a new friend, in another country, another continent, another belief, different languages, different traditions and different celebrations in the month of December.
So to this special person, (yes, inspired by you Laim) the first part of my blog about December traditions is all about the Jewish celebration of Chanoeka or Hanukkah. This year, 2018 it officially begins at sunset on Sunday 2ndDecember for a period of 8 days. Inspired by the words: Honesty above Forgery. Spirituality above Materialism.
Virtually everyone knows that this Jewish tradition is all about the ancient festival of light. But when I looked up more information about it, it is incredibly interesting and this is the reason why I am sharing with you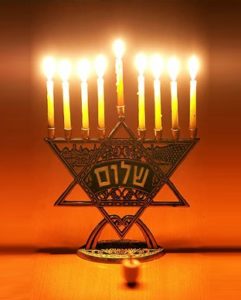 We have all heard of the special candelabra (menorah) with nine candles, which is officially called a Chanoekia. It used to have seven candles; I am not sure why this has changed? Anyone know? Each day a candle is lit until they are all, the ninth being lit on the final day. Some traditions say all are lit at the same time, and in ancient times burned all 8 days, but I prefer to think myself that this may have been the oil used in the cleansing ritual as opposed to an actual candle. Please correct me if I am wrong in the comments.
Sometimes there are four Hebrew letters on the candelabra (see photo). These are:
Noen, Gimmel, He and Sijen. The most popular meaning of this four-letter combination is: nes gadol haja sjam– meaning a great wonder, which occurred. This relates to the wonder of the Chanoeka bottle, which was used to initiate the Temple in ancient times in Jerusalem.
Other explanations for the words are: noen= nothing, gimmel= ganz (everything), he= half and sijen= pay.
(A simple explanation is; that you should put your money back into the pot), which in itself it very similar to the collection in Christian churches to this day. And also to modern day casinos, would you believe it, when you place a bet and have a win, often it is expected that you give your original bet (amount) back to the house!
The tradition of Chanoeka dates back to very ancient times. In fact to 165 BC.
The story of Chanoeka can be found in books 1 and 2 of Maccabees. The books as such are not part officially part of the Tenach, (a Jewish holy book) but a part of the Apocrypha (a book of unknown origin). Written at the time of a Jewish rebellion against the Seleucid dynasty.
Chanoeka was initiated by Judah Maccabees and his brothers. It was a joyful celebration of the dedication of the altar in the Temple in Jerusalem. Judah gave the instruction to cleanse the Temple and to build a new altar. When the light was ignited, this was celebrated for the next 8 days. Offers were given and celebrations took place, singing songs, playing games and often with a toy called a 'top'. This was called a Sevinon or Dreidel with a letter on each side (as above). Often filled with special cleansing oil.
Chanoeka has been celebrated for more than 21 centuries, so it is an ancient tradition. A festival of light. For 8 days. This year ending on 10th December.
Often people make latkes (potato cakes) and Soefgariot (donuts).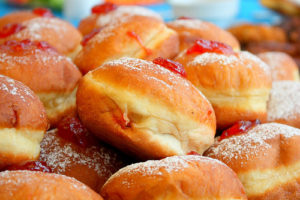 Actually when you think about this, it's something, which is celebrated in a similar way with the Christian Advent (the coming of an event – the birth of Jesus), when a candle is lit on the first Sunday in December continuing on for the next four weeks until Christmas.
******************
SINTERKLAAS IN THE NETHERLANDS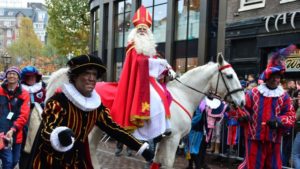 When I first came to live in The Netherlands, I had never heard before of the celebration of Sinterklaas. (St. Nicholas). This is celebrated on the 5thDecember.
St Nicholas originated from Turkey but came to The Netherlands from Spain with his Moorish helpers, known as Zwarte Pieten (Black Peters) in olden times. His steam ship would arrive in one of the ports along the Dutch coastline and he would bring toys and special things for children, who have been good all year. One of the things he brought in years gone by, were oranges from Spain. In those days, many people had never ever seen an orange let alone tasted one.
In the days leading up to 5th December, Zwarte Pieten (Black Peters) bring small toys for children who put their shoes by fireplace before they go to bed, leaving a carrot for Sinterklaas' horse Amerigo.
On the actual day, in other words: the main event: a large sack of presents arrive at the door. Children are of course by this time extremely excited. Families also make funny presents and rhymes for older family members. This is often a moment, when you can tease someone about something that has happened during the year. But all in all, a fun evening, both for young and old.
There are lots of sweets and biscuits made around this time of year, most famous are 'pepernoten' (small cinnamon biscuits), 'suikerbeesten' (small animals made from sugar), 'chocolate letters (usually with your own initial) and 'speculaas' (again a spicy biscuit sometimes filled with marzipan and extremely sweet chocolate 'kikkers and muizen' (frogs and mice).  It is interesting to see how these days, a lot of recipes and such like are now using much less sugar than before!). No one ever worried about that before! Or about long term effects!
This is an old tradition dating back over several hundreds of years and it is very sad that recently people have started to take offense to the Black Peter's describing this racist and such like. Often in the past couple of years, angry demonstrations occurred in places, when Sinterklaas arrives in his boat. This is sad I think, because this is a celebration and old tradition for children, not adults and they do not understand for one moment what all this sudden fuss is all about. They are excited when he arrives, try to behave and be extra good in anticipation of the presents on the 5th. Sinterklaas actually celebrates his own birthday on the 6thDecember. I think it will be a real shame if this eventually disappears just because of intolerance and misunderstanding.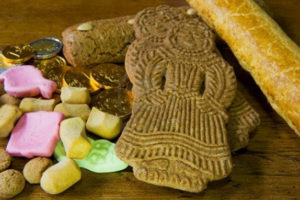 During the years I have lived here, Christmas, which was hardly apparent when I first came, has really overtaken Sinterklaas and is celebrated by more and more people each year. People put trees and decorations in their homes and gardens, which all looks really magical on the darker evenings. So basically they are celebrating the light too?
Father Christmas seems to be taking over slowly but surely.
To be continued…. and please if you feel like sharing the traditions and customs in your own country, leave a comment which I can then add to the feed.
Images: Google Images