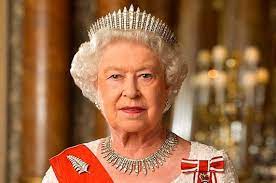 Even though I know there will be absolutely nothing more on the news for the next few days, I just wanted to write this short piece as a tribute to the Queen who has been in reign all the years that I have been alive. That's a strange thought isn't it, we have not known anyone else, and the Queen has always been there, carrying out her duties and tasks with dignity, calmness, sovereignty, humility and certainly took her lifelong job seriously.
My own personal story is about the time that my mother met the Queen. My father was working at the time at the Royal Chelsea Hospital, a sort of retirement home for ex-military veterans, where they can spend the rest of their days with dignity in a serene place. Those of you who know the area, will of course know that the hospital neighbors the place where the Royal Chelsea Flower Show takes place annually.
Every year there was a celebratory day held there, to mark the passing of the monarch Charles II who was the patron of the hospital. People would be given 'oak leaves' to wear symbolizing the moment that the King fled and hid from Cromwell and his men.
My father and mother were invited to meet the Queen. Being a typical English summer day when no one knows what the weather will do, my mother chose a dress and an apple green summer coat. Of course, she had the matching hat, that was the way things were done in those circles.
The Queen arrived just before the ceremony took place and it was only when my mother stood waiting to shake her hand, she realized to her horror that she was wearing the same colors as the Queen herself!
As she approached, the Queen raised her eyebrows at my mother, and then when they finally were introduced and shook hands, she said to my mother: 'we both certainly have good taste in fashion'. It literally made my mother's day as you can imagine, and she told this story many times until she passed away in 1997. The same year Diana died, which is now 25 years further on.
When the news broke yesterday the initial reaction, I think many people thought that after Prince Philip had passed it would not be long before she did. I think one of the saddest things I have ever seen was the Queen at St. George's Chapel at his funeral sitting on her own, looking lost and forlorn and that was because of Corona rules at the time. Surely someone could have shown a little compassion and sat with her in her grief.
And now we have a King. King Charles III in fact and Camilla will officially be known as the Queen Consort, which is basically a fancy title for the wife or spouse of the King. I think a lot of discussion with come to the surface again that many people will perhaps never accept her in this role because of how history went between her and Diana. Diana, Princess of Wales was of course, one of the most beloved royals in our history and was the peoples' princess.
Last evening after switching off the television as I could not listen to another word of what was being said, I realized that since I have lived here in The Netherlands, I am into my third monarch. First of all, Juliana was Queen, then she passed the role onto Beatrix and now Willem Alexander is our present King. Maybe there is a lot to be said for taking a sort of retirement from the role. Maybe not.
It seems strange to me that someone at the age of 73 will be 'getting a job' for the first time ever and become our King. Well, the King of the United Kingdom. I am somewhere in the middle of both countries, being a Dutch national too (yes, I have been here that long!)
It was a shock, for sure, that QE II had passed, but at 96 who could expect her to go on for evermore.
She will be remembered by millions as a very special lady who dedicated her life to the service of the country and its people. 15 Prime Ministers, including the great Winston Churchill, right up to Tuesday this week, when she gave Liz Truss the go ahead to form a new Government.
Rest in Peace Lillibet!