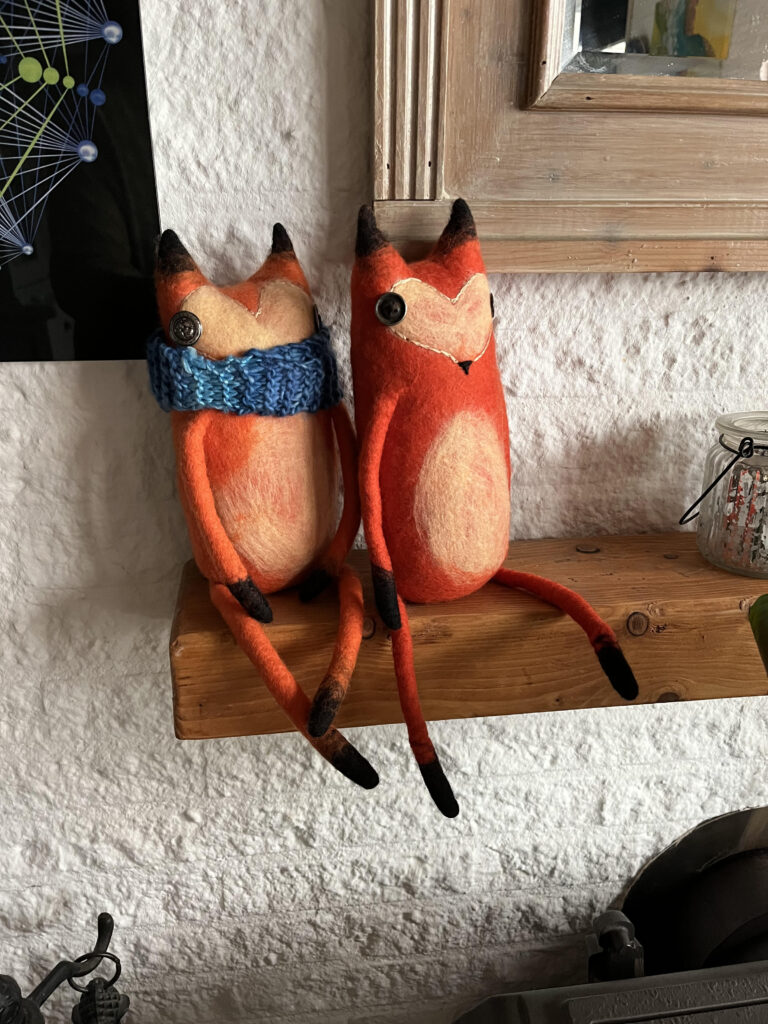 It was an exceptionally warm sunny day in SaInt John in New Brunswick in Canada In the little gallery up one of the hilly streets, Fred and Malcolm were sitting in their usual place on one of the shelves by the window.
'Malcolm, get ready' Fred said. 'I've heard that there are three cruise ships in town today and that means lots of people about and you never know they might come in here and see us. And even better, buy us and take us home'.
Malcolm fluffed up his chest and sat up straight.
'Really, how do you know?' he asked.
'Overheard them talking by the cash desk' Fred replied.
During the morning several people walked past and looked into the windows and one or two came into the gallery, but it was shortly after lunch that two women walked in.
'Oh, just look at those two sitting there all warm and cozy together' one of them said.
'So cute' the other replied and began to read the labels attached to them both. It made her smile and she read out the words to her friend:
Hello, my name is Fred, and I am a wet felted fox looking for my forever home. I like peaches, stew, and baseball. I have been handcrafted using wool, soap, and water. If I absolutely need a bath, hand wash me then in cool water and let me air dry, but only if necessary!'
The woman smiled even more and went on to read Malcolm's label:
Hello, my name is Malcolm, I am a wet felted fox looking for my forever home. I like cuddling, a book, and a cup of milk tea. I have been handcrafted using wool, soap, and water. If I absolutely need a bath, hand wash me then in cool water and let me air dry, but only if necessary!'
Both women stood there smiling and remarking on how lovely their stories were, and after a while, one of them put them back on the shelves. Fred and Malcolm felt their hearts sink, they were sure that she was going to buy them.
They left the shop and walked on up the street to the market. Now quite by chance the lady who had made Fred and Malcolm was working there on another wet felted cat and a conversation began. The lady told her that she had seen the two foxes in the gallery, and they were just such fun. The lady said she could not make any animals fast enough and a pile of four were waiting for her to finish and were already sold! Handing her business card, she wished them both a pleasant day and got on with her work.
The two women glanced at one another, and one said: 'We have to go back to the gallery'.
When the gallery door opened again, Fred and Malcolm noticed they were back. 'Perhaps it a good sign' Fred whispered.
And yes, they were both taken off the shelf and saying their goodbyes to the raccoon, Thor, who then was placed where they had been, Malcolm and Fred both knew at long last they had been bought and were on their way to their new home! How exciting and where would it be?
They spent a couple of days somewhere, wrapped up carefully in tissue paper and then they were packed into a dark suitcase. Fred and Malcolm were both afraid, as neither of them could see what was going on. The suitcase was placed into a car and taken off to an airport, they both knew that because they heard the planes.
Through the scanners and then into the cold chilly wind on a truck and taken off to a plane.
'Where on earth are we?' Fred asked.
'No idea' Malcolm replied 'but we are off on a journey somewhere for sure'.
The case was thrown into a plane and a long cold journey above the clouds and Fred and Malcolm felt very apprehensive all the time. It was they both thought, maybe more fun sitting there in the gallery instead of this dark, chilly place and being thrown this way and that. They both decided the best thing to do was to try and sleep and not worry too much. The woman seemed genuinely very nice and friendly, and she had bought both of them and that was of course, wonderful as they would never have wanted to have been split up and sold separately.
A while later the suitcase was opened, and Fred and Malcolm were taken out of their tissue paper wrappings and suddenly found themselves in a new place. A cozy cute cottage with beams on the ceiling and were placed side by side on a mantelpiece above what looked like a log fire.
'Welcome home' the woman said, 'I hope you both will be happy here'.
Two haughty cats looked down from the mirror above and turned up their noses.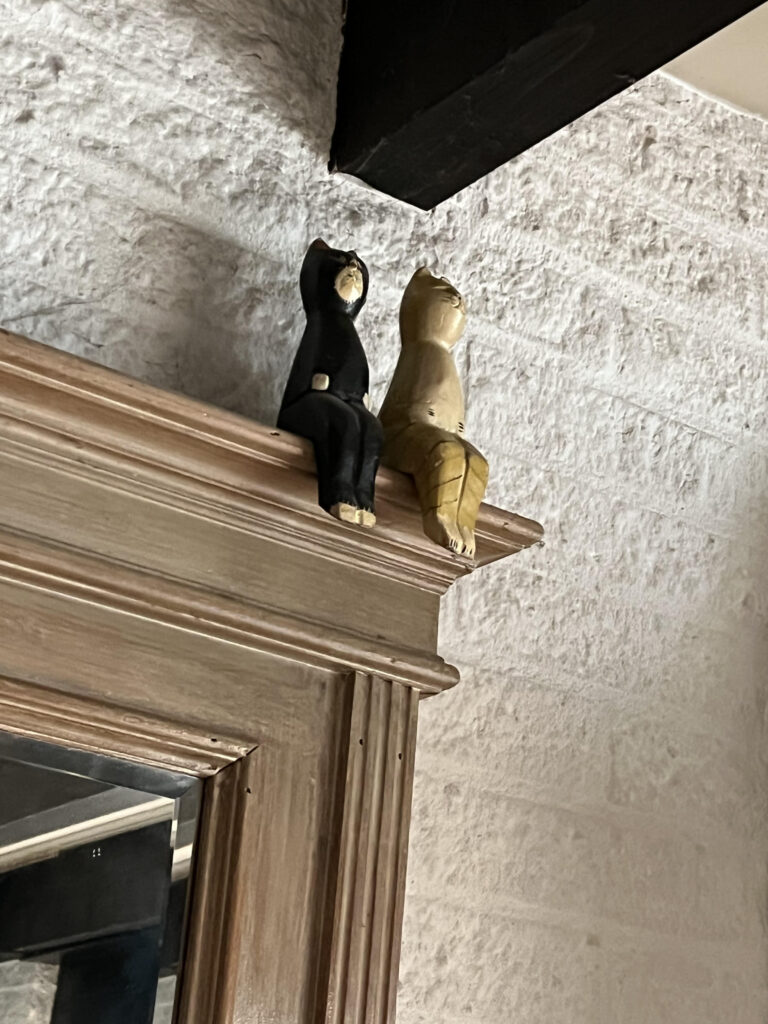 Day by day, Fred and Malcolm both decided that they really liked their new abode. There was a friendly big dog, called Mats who looked and said hello every day. There was a real cat too, called Nola who glanced up at the two wooden cats and told them to be nicer and behave, which they both did in the end.
The best bit was in the evenings when the fire was lit, and they would all sit there warming their toes!
A few days later a little girl came. Her name was Reign, and she was three.
'Would you like to meet Fred and Malcolm? Nana asked her.
'Yes, please' she said, and Nana took them off the mantelpiece and handed both of them to her. She gave them both the biggest hug ever and Fred and Malcolm felt their hearts fill with joy.
They heard later that they had travelled over 6000 miles to another continent and soon became a real talking point, as everyone who came to the cottage looked, and admired them both. The woman (called Jill by the way) was proud of her two Canadian felted foxes and best of all, the little girl came very often and hugged them both every time.
'I love them both' she said smiling and Nana told her that one day she could take them to live with her too.
Fred and Malcolm were the happiest felted foxes ever, as they had found their fur-ever home!