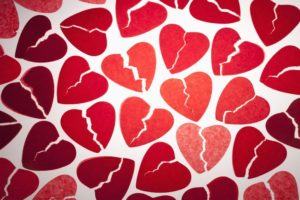 I thought it might just be a nice idea to finish off the series of my blogs about my heart, with a third and final one, which is more about hearts in general and foremost, the big question:
How do you mend a broken heart?
Obviously I am not talking here about a physical heart, more metaphorically speaking about what do you do if your heart is broken and why? What are the reasons? And more important what can you do about it?
The first thing that springs to mind about having a broken heart is all about love. A relationship that is broken for whatever reason. I am sure that many of you reading this will remember your first love affair. Whatever age you were (or even are), that seems to be the most painful for everyone and one, which is engraved into your memory.
Personally I remember that I was about 15 or 16 at the time. I used to go out regularly with school friends to the local youth club, or sometimes to a disco in the next biggest town, Guildford. It was nearly Christmas and I remember meeting a boy called Brian, who kept asking me to dance. At the end of the evening, a few kisses and the exchange of our home telephone numbers. This was long before the era of smart phones and the social media app's we have today. He rang me up a few days later, asked me out for a next date, and so the relationship went on. He was older than me I remember, studying at the London College of Hairdressing and Fashion in Oxford Street. Often I would go up by train to London to meet him there, it was all so exciting and fun. We all felt so grown up! He would sometimes come and visit me at my house and vice versa. He was highly talented and I thought he would go on to become a famous name in this industry, like many of the students who studied with him have done and their names are worldwide brands. The relationship went on for about one and half years and then all of a sudden he broke it off. I was devastated; never saw that coming and then he re-established his relationship with a previous girlfriend. It was right before my final college exams and I remember my mother being quite furious with him about the timing. He wrote in my diary (yes, we had them in those days), that he would always love me and never forget me. Yes sure!!
I often bumped into them and once my 'broken heart' had repaired, I got into a new relationship as well and then he was jealous. As if he had the right to be?
In the end when actually my anger suddenly bubbled up out of nowhere about the way he had treated me, was the moment when my heart was truly mended. So in other words my conclusion about this was that when another emotion took the lead role that my heart recovered and healed. Sadness had been replaced by irritation.
The last thing I heard about him, a number of years later was, when I went to see him get married to girlfriend number one and was absolutely flabbergasted when I heard that he was going to be a butcher in a local village shop. After all that training and being really good too. What a waste it seemed, from making people beautiful with extravagant hairstyles and fashion, to go on and spend your working life, cutting up animal corpses!
How many of you reading this, are now thinking about the very similar situation? The loss of a first love is the worst, my mother always used to say. Of course, looking back and several relationships further on, it would have probably never worked anyway long term, even though I am willing to say that there are some people who meet the love or their live in a first relationship, marry and have a wonderful life together and are as much in love as in the beginning. Well done if you are one of those!
There is no pill or band-aid plaster or any cure actually, to put on your wounds. They literally just need time to heal. It may sound like an old cliché and it is, but you will recognize even if you think you won't. It is that moment when you suddenly realize you have not been thinking about it for an hour, a few hours, the whole morning of afternoon and eventually a day. Then a week and a month. You can pat yourself on the back; you are healing all the time. The 'pain' has suddenly gone, just as quickly as it came. You feel better, more composed and generally life is possible once again and suddenly you are smiling and laughing again. There is light at the end of what seemed to be a dark tunnel.
It may then be hard to actually remember how awful you felt. You actually don't want to remember. It can remain a memory deep inside and often a piece of music on the radio or someone suddenly says something; back comes the memory and that is perfectly OK, but that intense feeling of deep pain in your heart has passed. It is mending or it is mended. Memories are things we all have and it is good to have them. Good to know what things we did or achieved in our life, good things, bad things, things we might have done differently in retrospect, but it is all part of our own personal growth.
There are of course other aspects of having a broken heart and the next biggest one is loss. Loss of a child, a partner, a parent, a friend, a colleague, a neighbour, a pet; the list is long. Loss and perhaps death walk hand in hand and you feel as if your sadness and pain will never leave you again. Believe me it will eventually, but we all have to actually go through a process of loss. Loss can be something small or something big. Something, which may remain with us for the rest of our lives. Then it will become a memory. Because life is actually going on at its own steady pace and even if you feel you have completely dropped off the bandwagon for a while, that too is perfectly OK. You need time.
Again with loss, just like love, time is the healer, even though you will be confronted for a long time with special moments and memories. But they are good aren't they? It would be awful to think that when you lose someone you have forgotten all about them all of a sudden.
Even though I personally think that time is a bit of an illusion and something that we humans have created ourselves, time is a healer in many ways and we should be grateful for that. So that seems to be the answer about how do you mend a broken heart? Be strong, be patient and get yourself involved in your own projects. Do something completely different, do something that makes you feel good, something you like to do. Enjoy. During the process it is perfectly OK to have happy moments too because it all contributes. Be authentic, be you, this is all about healing you personally. It is worth taking time. It is important. Just remind yourself that you are worth it. Everyone deserves happiness don't they?
Finally just want to share the words of a lovely song written by Barry & Robin Gibb © (Warner Chappell Music)
I can think of younger days
When living for my life
Was everything a man could want to do
I could never see tomorrow
But I was never told about the sorrow
And how can you mend a broken heart?
How can you stop the rain from falling down?
How can you stop the sun from shining?
What makes the world go round?
How can you mend this broken man?
How can a loser ever win?
Please help me mend my broken heart
And let me live again
I can still feel the breeze
That rustles through the trees
And misty memories of days gone by
We could never see tomorrow
No one said a word about the sorrow
And how can you mend a broken heart?
How can you stop the rain from falling down?
How can you stop the sun from shining?
What makes the world go round?
How can you mend this broken man?
How can a loser ever win?
Please help me mend my broken heart
And let me live again
image from Google Images