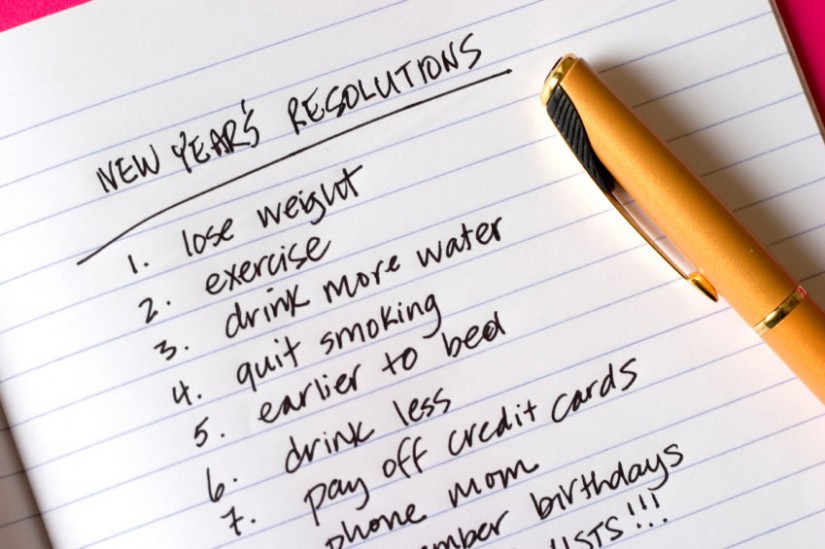 Well today is the 3rd of January and as I have mentioned earlier, 2019 is a 3 year so it seems appropriate to write something today!
It is a horrible grey January morning here in The Netherlands and pouring with rain. I saw a magnificent rainbow a few moments ago, the last bit of blue sky before the downpour.
Just as 2018 came to an end, I was working on the translation of a blog by a friend of mine called Janosh. It was all about 'Making your own Statement in 2019'. If you want to read it for yourself, go to (www.janosh.com) and click on the blogs, there are three languages to choose from English, Dutch and Spanish.
I enjoyed doing the work because I so agreed with what he was saying.
The funny thing is that we as humans all feel that we have to join in with the masses. It is expected of us all to make New Year's Resolutions! Why? Did we do it all so badly the year before? Or is it the idea that a New Year wipes the slate clean, you have 365 blank pages to write a new story?
Funny how the majority of resolutions begin with the word: less!
I find this interesting, why less and not more?
Of course, after the Holiday Season, where the majority of us have overindulged on all scores, maybe things like eating less or drinking less are applicable?
Before I go on, I looked up what the actual meaning is of NY Resolutions and is it apparently something common in the Western hemisphere (but also the Eastern). It literally says:
A tradition in which a person resolves to change an undesired trait or behaviour, to accomplish personal goal or growth, in other words improve their life.
And it is nothing new. Resolutions date back to Babylonian times, when ancient civilizations promised to give back goods or pay their debts. The Romans promised to the God Janus, after which the month is named. Ancient knights took a so-called 'peacock vow' to affirm their commitment to chivalry. In ancient beliefs too, in Judaism at 'Rosh Hashanah" culminating at Yon Kippur (the day of atonement) and in Christianity the liturgical season of Lent. Even though the meaning behind Lent is more about sacrifice than responsibility. Basically it was all about self-improvement. There is nothing wrong with that idea, irrespective of whatever belief you have.
Even though the actual holidays (Christmas and Boxing Day) are only 2 days in an otherwise normal week, it seems to be a 'must' to overfill our tables and over eat and drink. Otherwise we are not keeping up with so-called tradition. And every year I do it again, over buy, have far too much food in the house, overfull fridges and freezers, just as if, I like many, think the shops are never opening again. In actual fact, here in The Netherlands a lot of supermarkets were actually open on Christmas Day in larger towns and cities. Ridiculous! Of course it is wonderful to have time with family and friends and invite them to your table, again nothing wrong with that. But somehow along the way, I think a lot of us how forgotten the real reasons.
But back to new resolutions and the blog which inspired me to write this one too.
Why do we all feel that we HAVE to start with major plans and changes in the New Year? It is such a 'come down' from the festive season. A lot of people feel that they have to have a swim in the freezing cold North Sea. Why? Why on the 1stJanuary, the next day would be exactly the same wouldn't it? Janosh said, do you do it because you really want to, or merely to follow the masses? The latter is I suspect, the case.
The minute Christmas and all festivities are over we are completely subjected to advertisements about getting fit, eating more healthy foods, a membership to the local gym is a must, we have to get our holidays organized whilst the offers are on.
I agree with Janosh, why do we? No one is saying that WE HAVE TO.
What is wrong with doing things differently and as he said: 'making your OWN Statement in 2019'. Why not indeed?
I personally think it is a complete waste of time making NY Resolutions unless you fully intend to keep them and come on let's be honest the majority of us have given up around the second week of January. Why? Do we set the bar just a bit too high? Do we expect almost instant results? Yes we do. It is a sign of our times that we want things fast. We have to otherwise we cannot keep up with the pace of life these days. We have all become impatient on that score.
But my question is why do we allow ourselves to be so influenced? Of course it is good for us all to live our lives in a healthy way. Eat good, nutritious fresh foods, cut back on junk food, and drink more water and less alcohol. How many of you reading this agree? We need to take better care of our physical bodies, but considering the majority of us have spent our lives not doing that, we cannot expect 'a complete turn' around in the space of a couple of weeks. If you want to make a change on this score do it gradually. Funnily enough I opened the national newspaper this morning and the cover photo is of a man who lost 70kg in weight over a period of two years. No crash diet, not being an intense gym junkie, but just cutting down and being sensible. Now there is a word: sensible.
If you are overweight and have gained weight over a long period of time, then you cannot expect to shed it within a couple of weeks. Your body has got used to the excess and it will take just as long to reduce down as it did to build up. But what if you have been overweight all your life and you are a 'mood or comfort eater'? Then the big question here is why? The only way to do anything about this is to make conscious change and choices for you. If you are someone who is a 'mood' eater then ask yourself why don't I think about doing something else when I automatically find my solace in food? There is always a reason and may it is time to think about changing that reason? Same applies to 'comfort' eating. Why do you need the comfort? Isn't it time to think about making a change in your circumstances?
Whatever the reasons and whatever you want to change in your life, there is one first important thing you have to think about and that is the reason. Do you really want to? Is the change right for you or are you just following the trend? Are you completely behind your choice? If not, why not? It is much more about having a short dialogue with yourself about the 'how's and why's' before you even set about thinking what your list is. There is a big difference in the words MUST or HAVING TO as opposed to WANTING or WISHING TO.
To be perfectly honest I have not made a single resolution this year apart from one thing and that is, to be kinder to myself. To have more respect for my body, my mind and my health. If there is one thing on this entire planet, which you cannot buy, it is good health. Of course I can cut down on food, drink more water, go to bed earlier, exercise more, but it is never going to be anything sustainable unless I really want to. That is the whole point. I have to go deep down inside me to ask these questions and then the answers are already there. If I don't want, then believe me I will not succeed whatever the list of reasons may be.
Going back to what Janosh talked about in his blog: If you want to make your own statement in 2019 then do just that. Dare to be a little bit different and not just run with the herd. It is our nature as humans to follow the masses, do what is expected of us, but what will happen if you dare to maybe do things differently knowing that it is something you really want. Not just on the outside but deep within too.
One of the cartoons in the newspapers this morning shows a cat stretching on a couch and asking itself, what are my resolutions for the New Year. The answer he gave was only ….. I am just puuuuurfect.
We should all think about this!
Happy New Year
Image: Google Images